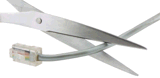 Nielsen Mobile just released a whitepaper, predicting that one in five U.S. households will be wireless only by the end of 2008. According to Nielsen, at the end of 2007, 16.4% of U.S. households were wireless only. Additionally, a Q4 2007 study by Nielsen Mobile showed that an additional 5% of households indicated that they were "likely" to disconnect their landline service in the next 12 months. Nielsen is using these findings to suggest the "watershed" moment of 20% wireless only households by the end of the year.
From a wireline carrier point of view, these wireless only predictions aren't encouraging. Wireless substitution is indeed accelerating, and the current negative economic outlook is not helping the situation. Many consumers are simply looking at both a wireless and a wireline telephone bill, and deciding one is enough. Wireless is winning that evaluation. When you combine that with a gen Y market segment who is perfectly comfortable with a wireless only world, the scenario worsens. As those gen Y consumers leave their parents home for college and beyond, the prospect of them subscribing to a landline phone is quite dim. There is a little encouraging news for wireline carriers from Nielsen. Their research findings suggest that 10% of households with landline service indicate they've returned from a wireless only situation. Other interesting findings include:
The majority of people who have dropped their landline are in lower income-brackets (46 percent have a household income of $50,000 or less), are younger (64 percent of decision makers in wireless substitution homes are in the 18- to 34-year-old age range, compared to 30 percent of the U.S.) and have smaller household sizes of 1-2 people
As of Q2 2008, 55 percent of cord cutters were renters, compared with 29 percent of total households
Wireless substitutors use 45% more minutes on their wireless phone when compared to non-wireless substitutors but only pay 10 percent more for their mobile phone service (netting a $33 savings per month in a single-person household, less $6.69 for each additional wireless subscriber)
Wireless substitutors are less likely than the average wireless subscriber to have satellite TV and more likely to use over-the-air or broadcast TV
Wireless substitutors are less likely than the average wireless subscriber to have DSL internet and more likely to use a cable modem to access the internet
The last bullet point indicates that cable competitors may have an advantage in wooing wireless only households to their broadband product. Nielsen's research also found that wireless only households seem to be more willing to watch entertainment through their Internet connection rather than through pay TV – perhaps an indication of an additional way to save money. This study reveals interesting and important trends. Its certainly too soon to suggest that all of these findings are representative of every market situation or demographic. But whatever the reality, all telecompetitors need to recognize, understand, and adapt to the implications presented by the rise of wireless substitution.