Streaming consumed 36.4% of the time people spent watching TV in the United States last month. It was followed by cable content at 31.1% and broadcast content at 22.8%, according to Nielsen's May 2023 edition of The Gauge.
Overall, television usage declined for the fourth consecutive month, which Nielsen said is typical for this time of year. The total usage declined 4.4% from April. That was a steeper decline than for the same period last year, which saw a decline of 2.7%.
The report also look at individual networks. The Roku Channel represented 1.1% of TV usage during the month. Three free ad-supported television (FAST) services — Roku, Pluto TV and Tubi TV — comprised 3.3% of TV time in May.
Multichannel video programming distributor and virtual multichannel video programming distributor (MVPD and vMVPD) streaming apps represented 5.5% of total television use in May. YouTube TV was responsible for 1.3% and Hulu Live for 0.4%.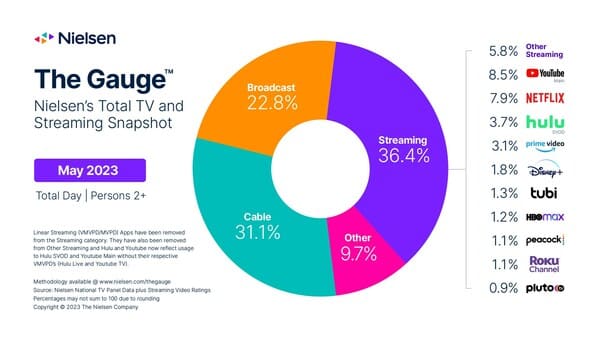 Overall streaming consumption increased by more than 30% and streaming's share of TV watching time has risen 8.2 share points compared to May, 2022.
Broadcast and cable viewing fell 5.5% and 5.4%, respectively, in May compared to April. Each lost 0.3 share points. Broadcast sports viewing declined 25% between the two months. Sports represented 7.9% of broadcast's 22.8% share. A highlight was The Kentucky Derby, with 14.5 million viewers.
Cable sports viewership rose 12% in May led by the NBA Finals on ESPN and TNT. Cable news viewing fell more than 11% from April.
On a year-over-year basis, broadcast viewing was down 5.6% (-1.7 share points) and cable viewing was down 13.7% (-5.4 share points).
In February, the broadcast category gained 1.3%in overall TV usage compared to January, 2022, according to The Gauge.