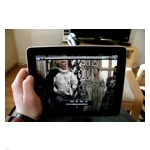 Nearly half of U.S. smartphone and tablet owners – 46% and 43%, respectively – said they use their devices as second screens daily while watching TV. More than 2/3 said they used their mobile devices as second viewing screens multiple times per week during 1Q 2013, indicating just how much of an impact connected mobile devices have come to have on Americans' TV viewing habits, according to Nielsen's latest survey of connected device owners.
Seeking to find out if smartphone and tablet owners are using these second screens as distractions or "to engage more deeply with what they're watching," Nielsen discovered that the answer is both. Seventy-six percent of tablet owners surveyed continued to rank Web searches and general Web browsing (68%) among the top second-screen activities, according to the latest survey. They are also using their tablets to engage in activities directly related to what they're watching, however. Nearly half said they look up information about what they're watching, for example.
More than half the tablet and smartphone owners surveyed said they visited a social media site while watching TV. At least 20% "spent time reading social media discussions about the the program they were viewing."
Furthermore, 13% of tablet owners said they used their devices to interact with the show they were watching, and 13% said they write social media posts about these shows, many more than was the case among smartphone owners in both cases. About 15% of tablet users said they watched a program as a result of something they read on a social media site.
Smartphone users spend nine hours per month accessing social media from their mobile devices on average, Nielsen also found. Tablet owners did so an average four hours per month, according to Nielsen's "Q1 2013 Cross-Platform Report."
In addition, 20% of tablet owners said they use their mobile devices to shop for goods and services advertised on TV, "providing advertisers another opportunity to connect with consumers."
Image courtesy of flickr user bendodson.