The agricultural industry is expecting big things from smart farm technology aimed at enhancing crop yields while minimizing the use of fertilizers and pesticides and which will rely heavily on broadband connectivity.
According to Transparency Market Research, the global  smart agriculture market is expected to increase 13.5% annually through 2025, rising from $6.5 billion in 2015 to $23.4 billion by 2025.  But how widely the technology is adopted will depend, in large part, on the availability of mobile broadband connectivity to support it.
Telecompetitor spoke with Eric Lescourret, director of strategic marketing for farm equipment manufacturer AGCO Corporation, to learn more about smart farm technology and its bandwidth requirements.
Smart Farm Technology
Smart farm technology includes equipment that can be precisely controlled through built-in global positioning system (GPS) capability, as well as equipment designed to assist farmers with decision making, explained Lescourret.
Equipment such as tractors with GPS capability have been "very highly adopted" and enable precise control of the equipment so that there is little or no overlap when seeds are planted or fertilizer or crop protection is applied, he said.
Decision making capabilities are enabled through sensors built into farm equipment to collect a wide range of data about soil, crop yields and other parameters that can be used to make decisions about what, when and where to plant specific crops, as well as decisions about fertilizer and pesticides. Combining this with historical data can further refine the decision-making process.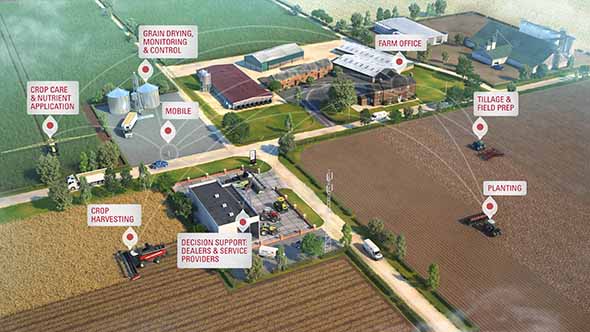 Some of AGCO's combines have 50 to 60 sensors, which feed information over a mobile broadband connection to the farmer's office or to a cloud service or a combination of the two, Lescourret noted.
"Manufacturers are starting to leverage consumer products more," he added. "We will see manufacturers using iPads or smartphones to control machines and to visualize data."
Advanced capabilities such as these are driving the need for substantial mobile broadband speeds. Lescouret pointed to data from Auburn University published in Farm Industry News in 2013, which stated that an individual plant could generate about .85 kilobytes of data in a single season. Today, Lescouret estimates that number at 1 kilobyte or more.
In a press release, the Association of Equipment Manufacturers (AEM), expanded the 1 KB number to an entire corn field. Noting that a typical corn field has about 32,000 plants, AEM estimated that every corn field is producing about 32 MB of data annually.
According to Lescouret, bandwidth requirements could double in the future. He noted, for example, that manufacturers are working on mobile agricultural robot swarms (MARS) that would be self-driving and would handle tasks such as planting – but which would require additional bandwidth. A video from MARS developer and AGCO unit Fendt, provides details:
[embedyt] https://www.youtube.com/watch?v=kFLCvE7FxBk[/embedyt]
The upshot is that smart farm technology requires LTE speeds at a minimum, Lescouret said.
Depending how farmers use smart farm technology, a high-speed fixed broadband connection from the farm to the internet also could be critical. Yet, as AEM noted, 39% of rural Americans in 2016 lacked broadband connectivity at speeds of 25 Mbps downstream and 3 Mbps upstream, compared with only 4% in urban areas.
Policy Implications
The FCC's Universal Service Fund (USF) and Connect America Fund (CAF) programs aim to help bridge this gap by covering some of the costs of deploying fixed and mobile broadband to rural areas that currently lack connectivity. Initially the mobility portion of this program was only planned to cover roadways, but the commission ultimately decided to target rural areas more broadly – a decision that likely was driven by advances in smart farm technology.
Questions remain, however, about whether USF/ CAF funding is sufficient and about how quickly faster fixed and mobile broadband can be deployed based on current budget allocations.
AEM is one of a variety of associations, including associations representing rural broadband providers, that have been advocating for faster rural broadband. According to an AEM spokesperson, the association "is leading the Ag Broadband Coalition's efforts to introduce legislation designed to improve coordination between the USDA and FCC when studying the status of rural wireless connectivity."
In addition, AEM will "ensure the FCC considers the needs of production agriculture" when allocating USF/CAF mobility funding, the spokesperson said.
AEM also advocated for expanded rural broadband as part of the organization's Infrastructure Advantage report released earlier this year.