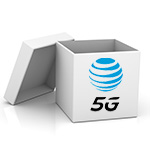 AT&T said it has deployed 400 Gbps connectivity on its backbone network between Dallas and Atlanta using white box hardware – which the company said is believed to be a first.
"This isn't a proof of concept, but a significant upgrade to our production network," the company said in a press release.
Backbone network links of today are typically 100 Gbps connections, but with bandwidth demand continuing to climb, many carriers are looking to increase that speed. A Comcast executive told Telecompetitor way back in 2013 that he would deploy 400 Gbps at that time if the technology had been proven. Verizon also has been looking to increase backbone network speeds, conducting a successful 400 Gbps trial in late 2017 on the company's production network.
White box hardware, also known as generic hardware, is designed to be controlled by software meeting open industry standards, with the goal of reducing cost and increasing flexibility by enabling faster changes in network capabilities and services. AT&T has been one of the biggest proponents of this approach, which marks a major departure from traditional telecom equipment based on purpose-built hardware with proprietary software controlled by the hardware manufacturer.
AT&T 400 Gbps Technology
AT&T references several key vendors that support the company's 400 Gbps connectivity in the press release, including:
Ciena, which provided a software defined networking (SDN)-enabled ultra long haul system controlled through Ciena's Manage Control and Plan (MCP) domain controller, which is integrated into AT&T's ONAP management and control framework using an application programming interface specified by the Open ROADM Multi-Source Agreement
UfiSpace, which provided a white box router that is compliant with the Broadcom Jericho2 Distributed Disaggregated Chassis (DDC) design that AT&T submitted to the Open Compute Project. The white box provides 10 x 400G interfaces on a 2RU "pizza box" style device
InnoLight, which provided 400G pluggable optical transceivers that were installed in the white box router and Ciena transponder to create cross-office connectivity between packet and optical technologies. The InnoLight transceivers are capable of transporting 400G signals on up to 2 kilometers of single-mode fiber, AT&T said
AT&T also noted that Ciena reconfigurable add/drop multiplexers (ROADMs) were upgraded with new software to support a flex grid approach. While traditional optical equipment divides a fiber into multiple wavelengths of identical width, a flex grid approach enables greater flexibility.
As AT&T explains, "This allows us, through software control, to optimize the allocation of spectrum on the long-haul fiber based on the required speed and reach of each wavelength."
In response to an inquiry from Telecompetitor, an AT&T spokesperson said 400 gigabit Ethernet "is being carried over 2x200G WaveLogic Ai wavelengths. No one else has a solution that can do this today, and it allows AT&T to execute on their aggressive 400G technology rollout. Ciena's WaveLogic 5 Extreme will provide transport of 400GE signals across equivalent long haul distances using a single wavelength."
Updated to include response from AT&T