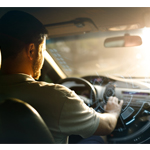 Audi, Qualcomm and the Virginia Department of Transportation said today that they will work together to deploy C-V2X connected car technology in the 5.9 GHz band with the goal of providing driver alerts, including some designed to enhance traffic safety.
The deployment will be made possible through an experimental license granted by the FCC, and it illustrates a possible C-V2X deployment scenario that would not rely on traditional cellular networks. However, the technology has the potential to also use cellular communications, which means the Virginia deployment should be of interest to wireless providers.
Plans for the Audi Qualcomm deployment call for C-V2X technology to be installed on northern Virginia roadways beginning in the third quarter 2020. It will be used to provide two key capabilities for drivers of Audi Q8 sport utility vehicles (SUVs), including work zone warnings and a green light countdown. Qualcomm will provide chipsets underlying the offering and the Virginia Tech Transportation Institute will develop software and systems to support these use cases.
The work zone warnings and traffic light countdowns will appear on an in-vehicle display. The latter capability uses signal phase and timing (SpaT) data from a traffic signal in combination with an Audi traffic light information (TLI) service.
Audi Qualcomm C-V2X Virginia Plans
The Virginia deployment got a PR boost in the form of a statement from Ajit Pai, chairman of the FCC.
"The cars and trucks of the future will use wireless spectrum and advanced technologies to keep us safer on the road," said Pai in the statement. "Cellular Vehicle to Everything, or C-V2X, is a new and promising technology that is gaining momentum in the automotive industry as it enables communications between cars, infrastructure, cyclists, pedestrians and road workers."
If the FCC moves ahead with a proposed plan to dedicate a portion of the 5.9 GHz band for C-V2X, "it would be a significant step forward for automotive safety, since there is currently no spectrum designated for C-V2X," Pai added. "Americans on the move would be the beneficiaries – but only if the FCC takes action and leaves the failed status quo behind."
The latter statement is a reference to DSRC – an alternative connected car technology to which a portion of the 5.9 GHz band was dedicated back in the 1990s. Very few deployments of that technology have been made, with the result that the spectrum is largely fallow.
The FCC proposal calls for dedicating some of or all the spectrum currently dedicated to DSRC to C-V2X instead. The two technologies cannot share the same spectrum, the FCC said. (Other spectrum in the 5.9 GHz band would be made available for unlicensed use, potentially supporting gigabit Wi-Fi.)
If the proposal is adopted, the nation could see C-V2X deployed on more roadways and in vehicles from more manufacturers to support applications such as the ones targeted for Virginia.
C-V2X technology is likely to be supported by wireless providers as well. The technology is compatible with LTE and 5G, and Sprint already has completed a vehicle-to-everything pilot in Chicago that used both LTE and 5G. That pilot used technology from HAAS Alert designed to provide collision prevention for first responders by alerting drivers when fleet vehicles are en-route and on-scene.
Digital alerts were delivered via cellular networks to drivers through navigation apps and in-dash systems, providing advance warning so that the drivers could safely identify and avoid first responders in time.