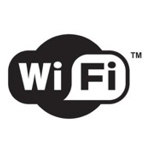 The FCC next month is expected to take the next step toward freeing up spectrum in the 5.9 GHz band for unlicensed use. The band is in close proximity to an existing unlicensed band that is already used for Wi-Fi, potentially enabling Wi-Fi users to achieve speeds of a gigabit per second, FCC officials explained on a conference call with reporters.
The 5.9 GHz band includes 75 MHz of spectrum between 5.85 GHz and 5.925 GHz. Back in 1999, the band was dedicated to supporting intelligent transportation systems using dedicated short-range communications (DSRC) technology, but that technology hasn't materialized as expected and much of the band is currently fallow.
In the notice of proposed rulemaking that the FCC will vote on next month, the commission seeks input on a proposal to reallocate the lower 45 MHz of the band for unlicensed use, and to continue to dedicate the upper 30 MHz of the band for intelligent transportation systems, a form of vehicle-to-vehicle communications. The proposal also calls for 20 MHz of the remaining 30 MHz to be used for C-V2X, a newer vehicle-to-vehicle communications technology, and seeks input on whether the other 10 MHz should be used for C-V2X or DSRC. The two technologies are incompatible, officials said.
Gigabit Wi-Fi Spectrum
Stakeholders, including NCTA–The Internet & Television Association, have been advocating freeing up a portion of the 5.9 GHz band for Wi-Fi for several years. Combining the new 45 MHz of spectrum with existing unlicensed spectrum would enable 160 MHz-wide channels that would transfer data more efficiently, potentially easing congestion, and which could support the latest Wi-Fi standards specifying 1 Gbps speeds.
Initially, some stakeholders suggested that unlicensed users should share spectrum with the auto industry but according to FCC Chairman Ajit Pai, further testing would be required to enable that option and would delay making the spectrum available for unlicensed use. In remarks made at an industry event today, Pai said "I believe the best course is to dedicate 45 MHz exclusively for unlicensed operations, and also to establish a home exclusively for transportation-related communications."
While the FCC typically avoids specifying industry standards for technology initiatives, the officials on today's press call said they were doing so for intelligent transportation systems because that is the best way to ensure that harmful interference does not put public safety at risk.
According to a white paper from the New America Open Technology Institute released in 2016, DSRC initially was expected to be used for non-safety services such as navigation assistance, toll collections and other non-safety functions that are already being delivered today over general-purpose cellular and Wi-Fi networks. OTI argued that the auto industry needs no more than 30 MHz for vehicle-to-vehicle signaling applications designed to warn drivers of impending hazards.
According to a letter sent by NCTA to the FCC last year, much of the Wi-Fi equipment deployed today already could support 5.9 GHz with software or firmware changes.