More than half of small rural video providers saw an increase in programming costs of 100% or greater in their latest contract negotiations, according to a survey conducted recently by Vantage Point Solutions, an engineering and consulting firm serving rural telcos. VPS surveyed 180 clients throughout the Midwestern U.S. about retransmission consent negotiations completed in December 2014.
More than one in five respondents (22%) saw costs increase more than 200%. Only 25% saw costs increase less than 50% and 21% saw costs increase between 50% and 100%.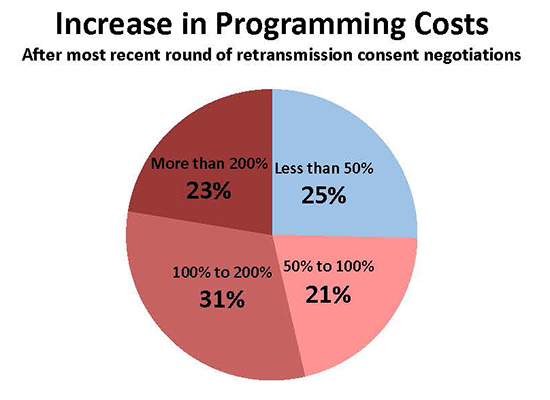 A full two-thirds of respondents said that if current trends continue, they were not likely to offer video service five years from now.
Already more than two thirds of respondents said their video offerings are unprofitable, and only 5% of respondents said their margins on video offerings exceed 6% annually.
Additionally, more than half of respondents (52%) rated their frustration with their most recent retransmission negotiations as a 10 on a scale of 1 to 10, with only 12% rating negotiations at a 7 or lower.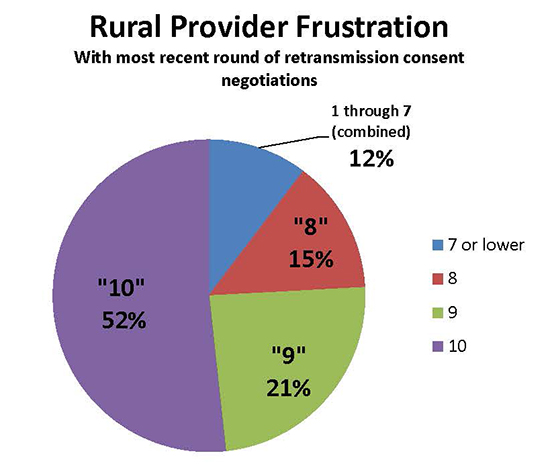 Video Content Costs Survey Filing
The survey results caught the attention of NTCA – The Rural Broadband Association, which filed them with the Federal Communications Commission, which is considering changes to retransmission consent rules that govern negotiations between television broadcast stations and pay TV providers that are required to carry the local stations.  NTCA represents the same sorts of companies that were surveyed by VPS.
"Particularly given that NTCA members serve areas that, in some cases, may have no access at all to over-the-air signals, such trends and reports are troubling – and should prompt changes in public policy that better reflect marketplace changes in the decades since the current retransmission consent regime was first developed," noted NTCA Senior Vice President of Policy Michael R. Romano in a cover letter sent to the FCC in the filing.
In the notice of proposed rulemaking about retransmission consent, the FCC asked for feedback on the "totality of circumstances" test that applies to negotiations between broadcasters and pay TV providers – negotiations that parties are required to conduct in "good faith."
As a VPS spokesman explained in an email to Telecompetitor, "When the FCC is trying to determine whether someone has failed to negotiate in good faith, they currently look at the whole record of interactions between the two parties (the 'totality of the circumstances'). Rural service providers would like the FCC to tighten up the standard, so that broadcasters can be held more accountable," the spokesman noted.