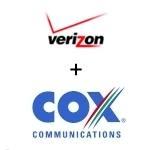 Verizon Wireless and Cox apparently aren't intimidated by the opposition group that launched yesterday to protest Verizon's co-marketing deals with Cox and other cable companies as well as the carrier's plans to purchase spectrum from the cablecos. Less than 24 hours after the opposition group held a conference call with members of the press to promote its platform, Verizon Wireless and Cox announced that they would co-market one another's services in Oklahoma.
The announcement involves packages of Cox video, Internet and voice services bundled with Verizon Wireless smartphones and tablets that will be available from either company in the Oklahoma and Tulsa areas. New and current customers have the potential to receive a Visa debit card worth between $100 and $400 for signing up for one of the packages.
When Verizon announced its co-marketing and spectrum deals with several of the nation's largest cable companies late last year, it didn't take long before the carrier pursued co-marketing deals with two of those companies – Time Warner and Comcast. Today's announcement marks the first co-marketing deal Verizon has pursued with Cox – and like the earlier deals, the Cox/ Verizon deal involves markets where someone other than Verizon — in this case AT&T —  is the incumbent local carrier. Competitors and public interest groups have expressed concern that the co-marketing deals will cause Verizon to curtail investment in its own broadband infrastructure and rely instead on the cable companies. But to date the co-marketing agreements have largely side-stepped markets where Verizon has its own broadband infrastructure.
The new opposition group, which calls itself The Alliance for Broadband Competition, includes the Rural Cellular Association, T-Mobile, Sprint and others. Participating on yesterday's call were representatives of the RCA and T-Mobile, along with representatives of consumer groups The Free Press and Public Knowledge and a representative of the American Antitrust Institute.
While the carrier representatives focused their comments primarily on Verizon's planned spectrum acquisition, the public interest group representatives focused primarily on the co-marketing agreements. The American Antitrust Institute representative expressed concerns about both developments.
Verizon and its cable partners have insisted that the co-marketing deals are independent of the spectrum sale and that no regulatory approvals are needed in order for them to pursue the co-marketing deals.