Verizon sees a bigger target market for its 5G Home offering now that the company has won nationwide C-band spectrum. The current Verizon 5G Home forecast also calls for higher take rates for the fixed wireless service
At a virtual analyst event yesterday, Verizon Executive Vice President and Group CEO for Verizon Consumer Group Ronan Dunne said the company expects to have 5G Home available to 50 million households by year-end 2025. Previously the company cited an addressable market of 30 million homes.
While the company previously expected to get a take rate in the range of 20% with the 5G Home offering, Dunne said the company now sees "a path to exceed a 20% penetration rate."
To date, Verizon has deployed fixed wireless service using 4G technology and in the millimeter wave band, which supports high speeds over relatively short distances. C-band spectrum should provide greater range at somewhat lower speeds.
Verizon executives dodged a question from a financial analyst about what speeds to expect and about pricing plans.
Speeds will be "competitive," said Verizon CEO Hans Vestberg in response to the question.
As for pricing, Dunne said the company will use a "mix and match model" with multiple service tiers. Tiers may be based not just on network parameters but also on content bundled with different tiers.
The company expects to position 5G Home as another line that can be added to a household's existing wireless plan, Dunne said.
By the end of this year, Verizon expects to have fixed wireless available to 15 million locations, with a bit more than half of the locations having 5G Home available to them, while the remainder will be reached by 4G.
By the end of 2023, the company expects to have fixed wireless available to 30 million locations, the vast majority of which will have service available via 5G. The company expects to have service available to 50 million homes by 2025, all of which will be served via 5G.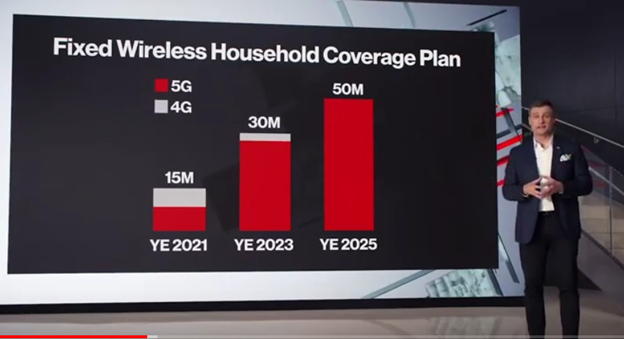 To support 5G Home service in the C-band, Verizon will launch new customer premises equipment this year, Dunne said. Equipment will include a 5G internet gateway, an internet gateway and a smart display, he said.
It's worth noting that this will be the fifth generation of equipment Verizon has launched for its 5G Home fixed wireless offering.
Verizon also sees an opportunity to sell fixed wireless to business customers. As Verizon Executive Vice President and Group CEO for Verizon Business Tami Erwin explained, the service will use a high-power fixed 5G receiver to give companies the broadband speed they need.
Fixed wireless is currently available to businesses in three markets and Verizon plans to have the service available in 20 markets by the end of the year, Erwin said.
A replay of the Verizon virtual analyst event is available at this link.