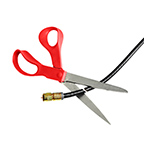 Over half of U.S. cord cutters (51.8%) canceled their pay-TV service subscriptions in 2015 and 2016, according to new market research TDG (The Diffusion Group). One-third did so last year, TDG said.
TDG predicted that high prices and the growing popularity of on-demand OTT (Over the Top) video service alternatives would fuel a rapid rise in cord cutting and come to haunt cable, satellite, and telco pay-TV providers nearly a decade ago, TDG co-founder and principal Michael Greeson pointed out. The shift also would be accompanied by declining ARPU (average revenue per user) among existing video subscribers, TDG forecast.
Having attained mainstream market status, the wide-scale availability of OTT video alternatives, such as Netflix and Amazon Prime, continues to prod viewers to reassess the value, and need, for cable and other legacy pay-TV services, Greeson continues. "Spending $70+/month for service that provides 2X value seems odd when you can pay $10/month for a service with 1X value," he notes.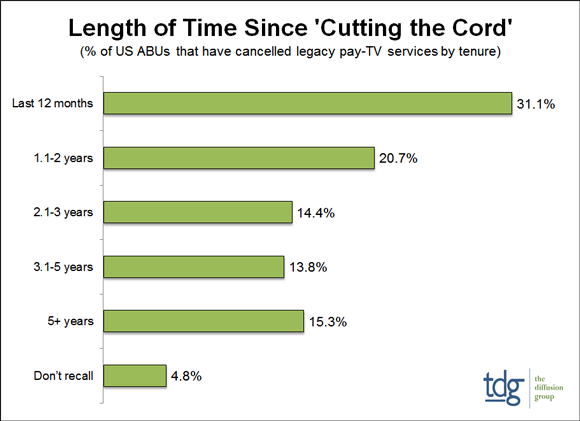 "The calculus of today's TV subscriber has been radically altered by the presence of SVOD services like Netflix."
U.S. Cord Cutters
Adding to cable and legacy pay-TV providers' woes, OTT service providers are now introducing linear, 24×7 streaming video services akin to those they themselves operate. Rather than requiring subscribers to pay for a menu of programming channels that includes channels they don't want, this initial crop of linear OTT video offerings come in the form of "skinny bundles" designed to match the viewing preferences of particular categories of viewers.
"Whether from independents (Sony Vue, YouTube TV, Hulu) or from incumbents (DirecTV Now, Dish's Sling TV), consumers now have greater flexibility in deciding for which channels they receive and pay," Greeson comments in a press release.
According to Greeson, leading cable and legacy pay-TV providers, Comcast being a notable exception, "are rushing into the skinny-bundle trap." Following this course, they join a race to the bottom in terms of price and selection in bids to stem the rising tide of subscriber losses without fully understanding the long-term consequences, Greeson says.
"True, market conditions are challenging, but many incumbents are blindly hastening the pace at which the value of robust fully-priced TV packages declines," he comments.
In contrast, Greeson singles out Comcast as an example of a legacy pay-TV provider that's doing well amidst a digital-age reinvention of television and film. "TDG observed long ago that incumbents were going to have to make a choice: either resign themselves to being a 'dumb-pipe' provider, or invest in using IP, change the TV experience, and become the go-to source for all things video," he said.
Comcast adopted the latter approach and has benefited as a result, he adds. "Comcast tuned into the latter, investing in the hardware and software required to bring the power of IP to the legacy TV experience, and the company is now gaining video subscribers when others are reporting losses."