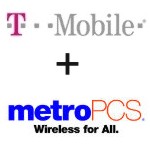 T-Mobile's plan to merge with MetroPCS could be finalized "shortly after" a MetroPCS stockholder meeting scheduled for April 12, where the shareholders will vote on certain aspects of the proposed combination, the companies said today. The news comes on the heels of Federal Communications Commission approval today of the proposed merger.
In comparison with some other communications industry mergers, the T-Mobile/ MetroPCS deal has virtually sailed through the approval process. Just a few days ago MetroPCS announced that the required waiting period for federal anti-trust action involving the transaction had expired. And the FCC's approval today not only was ahead of the commission's deadline; it also came without conditions – a relative rarity in the communications industry.
Strong federal support for the deal is not surprising, considering growing concerns about the combined market power of the nation's two largest wireless carriers AT&T and Verizon Wireless.  When the proposed deal was announced in October, T-Mobile CEO John Legere said the deal would accelerate the company's "challenger" strategy – a notion that likely was music to regulators' ears.
Legere continued with that line of thinking in today's announcement. "Our combined company will have the products, spectrum, scale and resources to shake up this industry and deliver an entirely new wireless experience," he said.
In granting its approval, the FCC said benefits of the deal include "the facilitation of [LTE] deployment, the expansion of the MetroPCS brand into new geographical markets, the development of a more robust, national network, improved quality of service, and the strengthening of the fourth largest nationwide service provider's ability to compete in the mobile broadband services market."