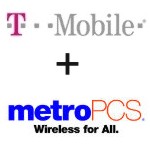 T-Mobile's "definitive agreement" to merge with MetroPCS, announced today, will accelerate the company's "challenger" strategy, the company said in a presentation to reporters this morning. The merged company, which will carry the T-Mobile name, will be the nation's fourth largest wireless carrier and, according to T-Mobile's new CEO John Legere, will be the "leading value carrier in the U.S."
Both T-Mobile and MetroPCS have PCS and AWS spectrum holdings, and although their earlier-generation networks have used incompatible technologies, the combined company's management team sees those incompatibilities becoming increasingly less important moving forward as the company transitions to 4G LTE. The company also sees numerous advantages from combining the two companies' spectrum holdings.
Depending on the market, the new T-Mobile's spectrum holdings will increase by an average of 40%, said Legere on the conference call this morning. In addition the company said it will have at least 20 x 20 MHz of spectrum available to support LTE in many major markets.
Minimal disruption?
The new T-Mobile apparently plans to continue to support and market its own and MetroPCS's current rate plans, as Legere referenced plans from both companies, including MetroPCS's 4G for All offering, as "key differentiators." He also noted that the merged company will be the "leading provider" in the fast-growing monthly no-contract market and outlined plans to support a range of differentiated offerings, including SIM card-only options, pay-as-you-go mobile broadband options and bring-your-own-device options.
In an attempt to thwart comparisons to Sprint's less than successful acquisition of Nextel, Legere insisted that "We are not going to smash together two different networks."
According to Legere, the merged company's plan is to migrate existing MetroPCS customers from their current network to T-Mobile's HSPA+ network. "T-Mobile's HSPA+ network has the capacity to accommodate Metro PCS [customers] almost immediately," explained Legere.
Legere noted that between 60% and 65% of MobilePCS subscribers upgrade their mobile devices annually and as they do so, their replacement devices will work on T-Mobile's network; accordingly Legere expects virtually all customers to be moved off of the MobilePCS network by 2015, at which point the MetroPCS spectrum will be re-farmed to support LTE.
MetroPCS already has deployed LTE in some markets, so although Legere did not specify, the re-farming reference may pertain to earlier-generation MetroPCS networks.
Legere also outlined other network synergies. "The expanded national footprint means many Metro PCS customers won't have to change carriers as they move outside [the MetroPCS] footprint," which, he said, should help reduce churn.
In addition, Legere said asset utilization will improve by 27% as the company gains a denser high-capacity network.
Financial details of the definitive agreement can be found in today's announcement from T-Mobile and MetroPCS.