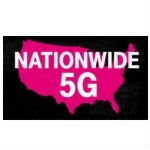 T-Mobile said today that it will launch 5G nationwide in 2019 using a combination of 600 MHz and millimeter wave spectrum. The company originally had targeted 2020 for nationwide 5G. The news was included in a press release about the company's third quarter earnings, which were released today.
The nationwide launch would catapult T-Mobile from last place to first place on 5G coverage among the nation's four nationwide carriers. AT&T and Verizon have launched 5G using millimeter wave in small portions of more than a dozen markets apiece. Sprint has used spectrum in the 2.5 GHz band for its launches, which cover broader portions of several markets. In comparison, T-Mobile has only turned up small portions of six markets, where the company has relied on millimeter wave spectrum.
T-Mobile Nationwide 5G Launch Plans
Using 600 MHz spectrum will be key to T-Mobile's ability to quickly turn up nationwide service, as lower-frequency (also known as low-band) spectrum — including 600 MHz spectrum — offers broader cover in comparison with the higher-frequency spectrum that the industry has relied on to date for 5G. Sprint's 2.5 GHz spectrum is considered mid-band, while millimeter wave spectrum is extremely high-frequency.
The downside to low-band spectrum is that the speeds it can support won't be as high as what other carriers have experienced using higher-frequency spectrum. T-Mobile has not talked about what speeds its 600 MHz 5G network will support but it would seem unlikely that it would match the multi-hundred megabits per second speeds that other carriers have reported for 5G deployed in higher-frequency bands.
The 5G speeds that a carrier will be able to support also are dependent on the amount of spectrum that a carrier uses for 5G. AT&T has deployed service using more than 400 MHz of spectrum in some areas. In comparison, T-Mobile noted in today's press release that it owns an average of 31 MHz of 600 MHz spectrum nationwide.
Nevertheless, it is likely that T-Mobile's 5G service will provide service that exceeds LTE speeds. In addition, 5G standards call for extremely low latency in comparison with previous-generation technology – another capability that will differentiate 5G from LTE, even if 5G is deployed in 31 MHz of 600 MHz spectrum.
Another key element underlying T-Mobile's plans for a nationwide 5G launch is handsets that operate in the 600 MHz band. Until now, none have been available, but T-Mobile announced last week that it will have two before year-end. One of these will be the OnePlus 7T Pro 5G McLaren, which will be exclusive to T-Mobile, the company said.
In the release about the OnePlus device, T-Mobile said it would launch 5G using 600 MHz spectrum in 2019 in areas serving 200 million people. At that time, the company said, rather obliquely, that this move would make T-Mobile "the country's first 5G network expected to deliver nationwide 5G coverage and service."
Like T-Mobile, AT&T also has been planning to launch 5G nationwide in 2020, and in July the company said it might have a 5G smartphone in 2019 that will operate in the 700 MHz band, which AT&T plans to use to support nationwide service.