A wide T-Mobile network outage yesterday impacted voice and SMS traffic, creating a somewhat embarrassing moment for the newly combined T-Mobile and Sprint company. The problems began around mid-day yesterday and have apparently been resolved.
T-Mobile CEO Mike Sievert issued a statement late last evening saying the T-Mobile network outage began around mid-day yesterday, intermittently impacting customers. Sievert said the root of the problem was "[a]n IP traffic related issue that has created significant capacity issues in the network core throughout the day."
Sievert reported that the issues had been resolved as of 1:03am EST this morning. The widespread nature of the outage got the attention and ire of FCC Chairman Ajit Pai, who issued a statement through Twitter, calling the outage unacceptable, and called for an FCC investigation. T-Mobile counted 86 million customers at the end of 2019.
The T-Mobile network outage is unacceptable. The @FCC is launching an investigation. We're demanding answers—and so are American consumers.

— Ajit Pai (@AjitPaiFCC) June 16, 2020
At one point yesterday, Downdetector reported several carriers and websites were having issues, leading some to wonder whether the U.S. was under some type of cyber or Distributed Denial-of-Service (DDoS) attack. T-Mobile confirmed the issue was an internal network issue and not any type of attack. Other carriers disputed Downdetector's outage data, reporting no problems.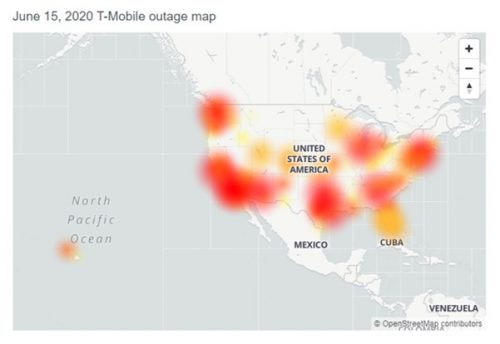 "Sites such as Downdetector.com utilize limited crowdsourced data drawn from sample social posts which are often statistically insignificant or factually incorrect," a Verizon spokeswoman told C-net.
The timing for T-Mobile is not ideal. Having just completed its acquisition of Sprint, T-Mobile has been touting how the combination will strengthen the wireless carrier and lead to better network coverage and more innovation. The T-Mobile Sprint deal was completed in April of this year.