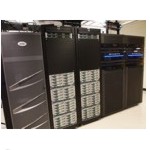 Simplifying information technology management is the primary benefit of using managed services, according to survey results from IT solutions provider JDL Technologies. Ranking a close second was improved security, JDL found from results of a survey of U.S.-based chief information officers, VPs, directors and managers conducted by Spiceworks.
Nearly 8 of ten of the organizations that responded to the survey make use of managed services. One in 5 (21 percent) were considering doing so in 2016, JDL highlights in a press release.
Drivers of Managed Services Adoption
Simplified IT management was cited as managed services' primary benefit by 37 percent of respondents. One-third cited improved security, while 3 in 10 (29 percent) cited increased efficiency.
These results differed somewhat from the factors that initially motivated organizations to adopt managed services. Improving efficiency was selected as the top initial driver of managed services adoption, chosen by 36 percent of respondents. Addressing growing complexity of IT systems ranked second (34 percent). Improving reliability/reducing downtime followed, chosen as the initial primary expected benefit of managed services by 32 percent. Improved security appeared to be an unexpected benefit, JDL points out.
At 46 percent, the availability of 24/7 support ranked highest when it came to the criteria survey participants use in choosing a managed services provider. Service provider reputation followed, cited by 40 percent. Highlighting the effectiveness of remote services management, geographic proximity ranked low at 19 percent.
Back-up/disaster recovery/storage was the most common managed services application among survey respondents at 69 percent. Networking followed, cited by 66 percent, with hardware/infrastructure managing running a close third at 65 percent. Furthermore, more than half (52 percent) use managed services for end-user support.