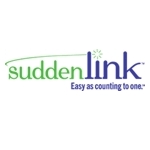 Suddenlink, the St. Louis, Mo based cable MSO, is accelerating their DOCSIS 3.0 strategy. They doubled their D3 footprint in 2009 and now reach 23% of homes passed with the ultra fast broadband service. Suddenlink has approximately 1.3 million customers in Arkansas, California, Louisiana, Missouri, North Carolina, Oklahoma, Texas and West Virginia.
Unlike other cable MSOs, Suddenlink is not pushing the envelope with their top D3 speeds. They are offering a 20 Mbps tier for now, but do intend to offer faster speeds soon. "We have now launched 20-Mbps service in substantially all of these markets, and are actively planning launches of even faster services in some of these and other areas we have targeted for DOCSIS 3.0 deployments," Suddenlink senior vice president of corporate communication Pete Abel tells Multichannel News.
According to Multichannel, Suddenlink expects to deploy DOCSIS 3.0 to 90% of basic subs by 2012. Suddenlink is beginning to leverage these faster speeds in marketing campaigns, specifically targeting their telco DSL competitors, as the above commercial illustrates.