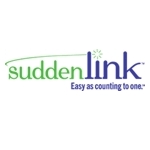 Suddenlink is offering its 50 Mb/s broadband service, powered by DOCSIS 3.0 technology, in several additional Texas markets. The latest to get the fast broadband service include Lufkin, Mineola, Grand Saline, Lindale, Quitman and Hideaway Lake.
Suddenlink also announced the 50 Mb/s broadband tier will be made available to several Dallas surrounding communities by Memorial Day. Suddenlink's DOCSIS 3.0 markets include communities in North Carolina, Missouri, and Louisiana. Their top tier offers a 107 Mb/s offer, although that's not available in every DOCSIS 3.0 market.
Suddenlink prices their 50 Mb/s tier at around $113/month ($78 when bundled with TV and phone). Individual market pricing may differ. The expanded DOCSIS 3.0 footprint is a result of the St. Louis, MO based tier 2 cable MSO's Project Imagine — a 3 year, $350 million bandwidth reclamation project. They are slowly moving to a digital platform, reclaiming bandwidth from analog channels, and devoting the extra bandwidth to more HD channels, faster broadband, and VOD offers.