The importance of local TV channels in rural areas is at a high point since telecom software provider Innovative Systems began monitoring it eight years ago, according to this year's study. Respondents to this year's survey gave the importance of access to local programming a score of 8.6 on a ten-point scale, with ten being the highest level of importance.
This year's 8.6 score compared to 8.2 in 2022 (449 respondents) and 8.0 in 2021 (522 respondents), respectively.
The popularity of local channels correlated closely with respondents' age, with older viewers most likely to rate local programming as important.
The 18- to 34 year-old age group ranked local channels 7.8 in 2023, compared to 7.1 in 2022 and 7.4 in 2021. The scores for the 35- to 54-year-old group were 8.5 (2023), 8.1 (2022) and 7.4 (2021). Those older than 55 years of age scored a 9.0 (2023) and 8.8 for both of the previous years.
Local TV Channels Study
The survey found that 15% of respondents are using over-the-air antennas.
"We see this as an ongoing trend that could likely cause rural consumers to look for the least expensive way to get local channels, which is an advantage for those who offer local basic packages which YouTube TV, Hulu Live, and DirectTV Stream cannot offer," the company said.
Those who use over-the-air antennas are a significant slice of the broadband universe. Parks Associates said that about one-quarter of U.S. broadband households used an antenna to watch local broadcast TV channels in 2019. This was up significantly from the previous year, when 15% of households did so.
That study also noted that those who use antennas for local channels tend to watch more video overall than average broadband households.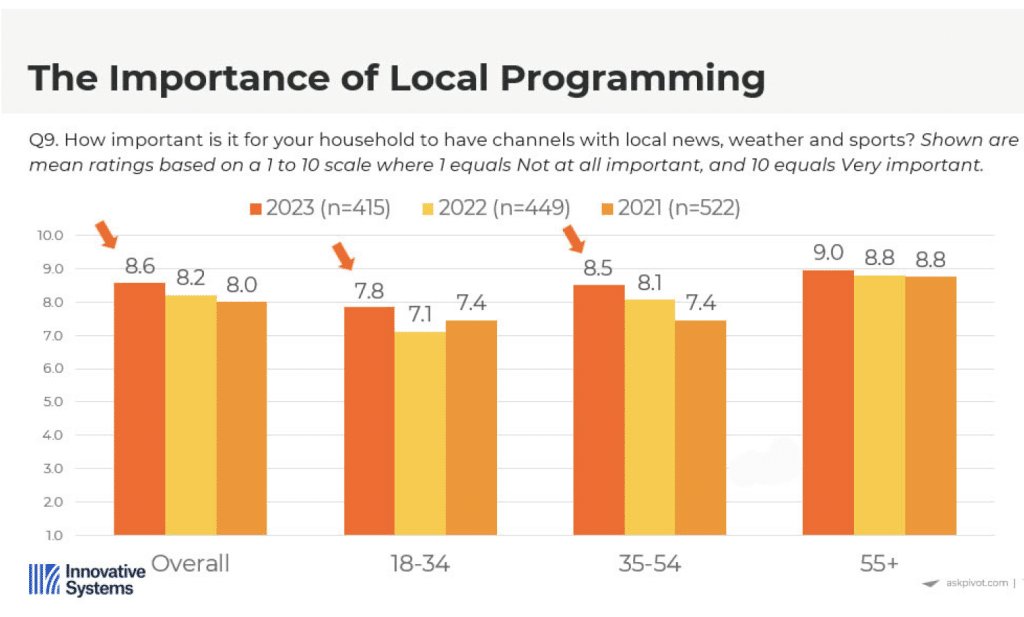 The survey of 415 respondents was conducted by Pivot, Telecompetitor's parent company.