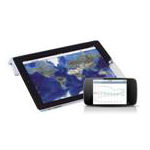 Americans have become a nation obsessed with mobile phones and multi-tasking, according to Deloitte's fifth annual 2015 Global Mobile Consumer Survey. Americans in aggregate look at their smartphones 8 billion times a day. Furthermore, they're doing so while engaging in an expanding variety of activities, including while watching television, shopping and while talking to friends and family.
Conducting the largest and most extensive survey in the five years since publishing its first Global Mobile Consumer Survey (nearly 50,000 survey participants across six continents and 31 countries), Deloitte found that 7 in 10 respondents said they own smartphones. Half (51 percent) own tablets while 14 percent own wearables. Nine percent own all three types of mobile devices.
Smartphone Habits Survey
Delving into mobile device usage, 6 in 10 U.S. consumers (61 percent) indicated they sometimes, if not often, use their smartphones while out shopping. Nearly half of all respondents (47 percent) said they use their smartphones while talking to friends or family and more than one-third said that for the most part they use them without being prompted by an incoming message or alert.
Contrary to reports on recent trends, Deloitte found that those ages 25-34, as opposed to those in the youngest 18-24 age demographic, used their mobile phones the most frequently while reporting that they watch television ¨at least occasionally.¨
Text messages (31 percent) overtook checking emails (24 percent) as the first smartphone activity of the day. Furthermore, checking emails via smartphones exhibited the largest year-over-year decline of any activity.
The amount of time people spend using mobile devices continues to rise across all age groups in terms of both how quickly they first look at their mobile phones during the day, as well as the number of times per day they look at them. According to Deloitte's latest findings:
Upon waking, 17 percent of smartphone owners check their phones immediately, up from 14 percent a year ago, while 43 percent of consumers check their phones within five minutes, up from 39 percent a year ago
When it comes to bedtime, 13 percent of smartphone users look at their phone immediately before preparing to sleep, while 33 percent check their phones within five minutes before going to sleep
Four percent of consumers in the U.S. look at their phones more than 200 times a day
Nearly half of consumers (48 percent) check their phones up to 25 times per day
Ninety seven percent of smartphone owners have used their phone at least once to take a photo and 74 percent to share. Interestingly, the most intense photo takers are either young (between ages of 18 to 24), or female smartphone owners who take and share photos daily.
mPayments
Deloitte's 2015 Global Mobile Consumer Survey also reveals a sharp rise in mobile payments. In-store m-payments surged nearly four-fold this year as compared to last, to 18 percent this year from 5 percent in 2014. Growth prospects look bright as well, particularly among Millennials. According to Deloitte:
The 25 to 34 year old demographic is driving the majority of mPayments activity for in-store purchases at 36 percent
The most popular uses of mobile payments were for public parking (19 percent), gas station purchases (18 percent), coffee shops and fast food dining (17 percent each)
At the same time, mPayments remains a large untapped opportunity, with half of consumers saying that they don't view mobile in-store payments as secure enough. Moreover, 36 percent of consumers simply do not see any benefits to using mobile phones for in-store payments.
M-payments companies would be served well by addressing mobile device users' concerns about security, according to Deloitte. "We believe that education of consumers on the benefits of advanced security features of some forms of m-payments technologies could yield additional growth opportunities for the sector," Craig Wigginton, Deloitte & Touche LLP vice chairman and U.S. telecommunications sector leader, was quoted as saying.
Wearable Trends
Smartphone and mobile device users are also showing greater interest in making use of products and services revolving around the ¨Internet of Things,¨ Deloitte found. Survey results associated with connected health and fitness devices and services serve as an illustration:
Ownership of fitness bands doubled year over year with approximately 10 percent of consumers owning a fitness band
Of those consumers who own fitness bands, 37 percent have reported monitoring their fitness level daily while 27 percent have reported monitoring their caloric intake and diet daily. These numbers jump to 66 percent for monitoring fitness and 47 percent for monitoring caloric intake weekly
While more consumers own fitness bands than smartwatches, smartwatches drive greater usage. Today, 74 percent of consumers use their smartwatch on a weekly basis vs. 66 percent who use their fitness band weekly.