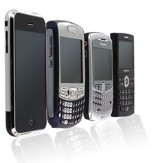 What a week for the smartphone. It began with the continuing hype over the pending launch of the Palm Pre by Sprint. Shortly thereafter, AT&T CEO Randall Stephenson said that most wireless networks (read AT&T's network) are ill prepared to handle the data traffic generated by smartphones. That is except for AT&T thanks to ongoing 3G network upgrades. Google followed that revelation with a preview of 'when Androids attack' by announcing eighteen Android powered handsets will be launched by year end. To top all of that, Verizon Wireless CEO Lowell McAdam went on the offensive and announced the Palm Pre and BlackBerry Storm 2 will be launched on Verizon by the end of the year, with Android handsets to follow at some point. Take that Sprint and T-Mobile! We wonder what tomorrow will bring.
The activity illustrates the importance of smartphones. They generate too much ARPU to be ignored. With Sprint launching the Pre, we'll have the first true smartphone battle between all major U.S. wireless carriers. Here's the line-up:
Of all the activity this week, we found Verizon Wireless' rhetoric the most intriguing. McAdam's statement about pending Pre availability on Verizon's network was a 'body blow' shot at Sprint. He basically sent a very loud message to anyone and everyone interested in the Pre that Sprint's Pre exclusivity will be very short lived. Wait it out and come on over to Verizon. And just for good measure, he also took a shot at AT&T, saying AT&T's 3G upgrades won't stand up to VZW's pending LTE launch, scheduled to begin in 2010. The next six to twelve months should be quite interesting.