The economic benefits of broadband for businesses are "severely limited" unless the connection provides speeds of at least 4 Mbps upstream, according to new research from Strategic Networks Group. Yet more than 70% of small businesses have less than 4 Mbps upstream speed, SNG noted. 
SNG is a consulting firm focused on helping businesses and communities maximize broadband benefits. A business was defined as "small" if it had fewer than 50 employees.
The Small Business Broadband Study
In conducting its research, SNG developed something it calls a Digital Economy index (DEi) – an index of 17 potential "eSolutions" — online activities covering a wide range of business functions. A DEi score of 10 means that all eSolutions are used, with a score of zero meaning that none are used.
Researchers found an average DEi score for small and medium size enterprises of 6.6. They also found that SMEs with the highest DEi scores generate 20% more of their total revenues from their online activities compared to the average SME.
"In a nutshell, the more – and more effectively – you use broadband, the more financial benefits there are to be realized by businesses," SNG wrote in a blog post. "Higher utilization by SMEs increases direct revenues (and cost savings), which means greater and faster business growth, more jobs and flow through impacts to the local economy."
Importantly, the companies with upload speeds of 4 Mbps or higher had the highest DEi scores.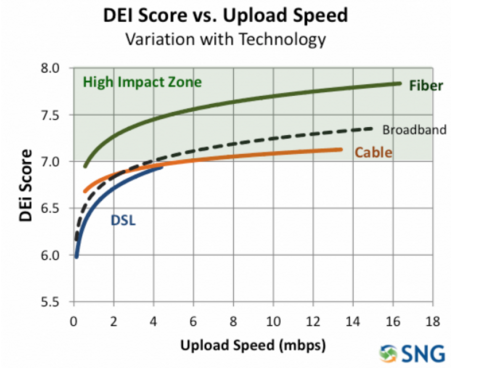 The upshot, SNG said is that "[s]peed alone will not drive utilization and impacts, but minimum upload speeds are a key enabler, empowering SMEs to take full advantage of broadband."
CAF Targets
SNG's research calls into question the minimum speed targets that the FCC has set for the Connect America Fund, which aims to make broadband available nationwide. The target data rate has been set at 10 Mbps downstream, but just 1 Mbps upstream – a decision that likely reflects a focus on residential users, who tend to download more material from the Internet than they send to it.
Residential user requirements also are changing, however, as those users increasingly are uploading videos and other material to the Internet.
In focusing on business broadband, SNG has done some pioneering research in an area that sometimes gets overlooked as policy makers debate how and whether to make broadband available nationwide and what the minimum broadband speed should be. Previous SNG research showed that broadband enabled 39.7% of all new jobs from 2013-2015, up from 25.5% from 2010-2012.