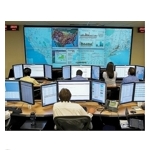 Seems like an odd question. Conventional wisdom says yes. After all, the network is the heart of a telecompetitor, and most take great pride in its operation. But recent developments are bringing this historical practice into question. Take Sprint for example. They just recently outsourced the operation and maintenance of their entire network to the Swedish networking equipment vendor Ericsson. The outsourcing deal spans the next seven years and is valued at about $5 billion.
This phenomenon is relatively new to North America, but is slightly more common around the world. In fact Ericcson has similar deals with approximately 80 carriers across the globe. "Managed Services has been successful throughout the world. Measures that provide operators with reduced cost and improved efficiency have become increasingly valid and attractive. This shows that the trend of full-scope Managed Services with tier-one global operators is now happening in the U.S.," said Angel Ruiz, head of Ericsson's North American operations in a Sprint company statement.
So why would a carrier outsource the management of its network? First, it's probably important to clarify that these deals do not involve the sale of network assets, only the management of them. Management of priorities probably leads a carrier to evaluate the potential of outsourcing its network operations.
Historically, networks pretty much defined carriers. Other functions of took on secondary roles. Marketing, sales, accounting, customer care, legal, and most other functions were important, but meant nothing without the network itself. Company leadership, more than likely, rose up through the ranks of network operations. Life for carriers was simpler in the past as well. There was a core service, everyone knew what it was, and innovation, while important, was not a priority.
Boy how things have changed. Readers of this blog recognize how most of that history is just that – history. Long gone. Today, it's less about the network itself, and more about the management of innovation and the guardianship of customer relationship and engagement. In effect, the priorities have shifted. The focus is now on the development of new products and ensuring deep and lasting relationships with customers. Sprint's Steve Elfman, President of Network Operations and Wholesale comments "…we're now positioned to eclipse the competition by concentrating on our legacy of innovation – whether it's revolutionizing the customer experience as we've done with Ready Now and our value plans, or delivering iconic, highly-sought-after products…"
In today's competitive environment, companies that spend too much time, effort, and resource on network management, at the expense of these new priorities, risk marginalization. That's not to suggest that network operations are not important. Indeed, they are critical. The more important question is, in today's competitive and ever changing marketplace, can a service provider effectively manage all of these priorities? Perhaps a third party network operations manager can be held more accountable to meet the changing demands of the marketplace, than a captive network operations division. There's always been somewhat of a tug of war between operations and marketing within service providers. Marketing wants to innovate and sell at any cost. Network Operations wants to maintain and engineer. The two don't always see eye to eye. Will this new outsourcing trend relieve that tension? More importantly, will it improve a telecompetitors ability to effectively compete and grow market share? Time will tell.
Everyone's not sold on this new approach. Verizon's on record as saying they don't intend to adopt it. Given Sprint's recent performance, they may not be the best example of a leading telecompetitor. But, they are taking the lead in this new trend in North America. History will judge whether it is a smart move, not their recent performance.