Software defined networking (SDN) technology is making it easier for multiple service providers to share a community-owned virtualized open access network in Ammon, Idaho.
Two service providers already have signed on to offer broadband at speeds of up to 1 Gbps over the community-owned network and customers will be able to switch service providers through a self-service portal, explains a Harvard University report.
Virtualized Open Access Network
The idea behind an open access network is to encourage competition by enabling multiple service providers to use the network to provide service. But changing providers on open access networks to date has required a truck roll. Ammon's virtualized approach eliminates that requirement by enabling the same customer premises equipment to support different providers, who can be changed via software. This approach also makes it easier for providers to offer service because the providers do not have to purchase separate fibers on the network or provide the equipment to light those fibers.
"Ammon is running a lit network, but with a twist: the city merely connects users to a local network . . . and connected users can choose between multiple ISPs from which to buy access to the wider internet" explain the authors of the report from Harvard's Berkman Klein Center for Internet & Society at Harvard University. The city of Ammon does not compete with the ISPs in providing wide area internet connectivity, the authors note in the report, titled "Enabling Competition & Innovation on a City Fiber Network: Case Study."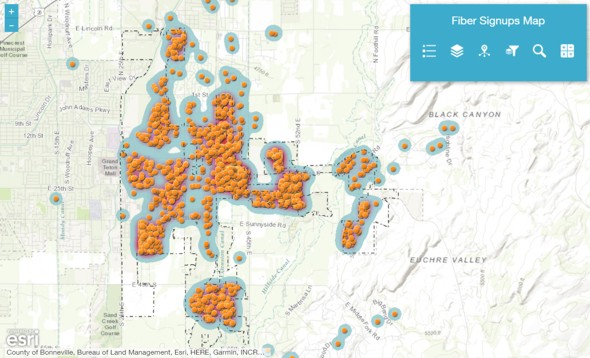 Potentially customers also will be able to order services such as remote data storage from a provider other than the one that supplies the customer's internet access – and businesses will have the opportunity to establish their own internal networks within Ammon's network without using an ISP.
Ammon Network Economics
Ammon has a population of 15,000. Its municipal network initially was built several years ago at a cost of $1 million to provide connectivity to support the city government's internal purposes, saving $70,000 a year in comparison with purchasing service from outside suppliers.
Later the network was expanded to support fiber-to-the-home. Homes wanting broadband service had their choice of paying a one-time charge of $3,000 for connectivity or spreading that cost over 20 years of $17 monthly payments.
Users also pay a $16.50 utility fee to the city for the local connection plus $10 to $105 monthly for wide area connectivity, depending on the speed and ISP selected. Even those paying the maximum price save money in comparison with purchasing equivalent service from the local cable provider, the report authors note.
The virtualized open access network is a logical use of SDN  and network functions virtualization (NFV)  – two technologies that can work hand in hand to support centralized software control of functionality that previously was built into dedicated hardware offerings. Virtualized open access networks are a relative rarity, however, because commercial network operators generally have little interest in deploying open access networks, let alone virtualized open access networks.
As the Harvard report authors note, however, the Ammon project is "worthy of study by other municipalities and public entities seeking to promote retail competition and encourage new services and applications."
And even though virtualized open access networks would appear to be a niche market, the report notes several companies that provide virtualization software and services targeting municipal networks, including EntryPoint, Cos Systems and Netadmin Systems.