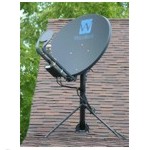 According to Northern Sky Research (NSR), satellite broadband did quite well in 2009, despite the difficult economic environment. "Probably one of the biggest success stories of 2009 was satellite broadband access, where NSR noted that North America set a milestone by becoming the first region to top 1 million subscribers …," reports NSR in their Broadband Satellite Markets 9th Edition research report.
NSR goes on to say they feel the satellite broadband access market is likely to improve with the pending launch of more capable broadband access satellites. Says NSR, "…the imminent launch of the second generation of high throughput satellites (HTS) like ViaSat-1, KaSat, Jupiter and even Hylas-1 will finally change the core economics of satellite broadband access services." By changing the "core economics," satellite broadband costs are expected to decline and make their retail service offerings less expensive, while also offering improved performance. At least that's the theory – we'll have to wait and see how this plays out in the market.
All the talk of rural broadband thanks to the broadband stimulus program and the national broadband plan tends to center around wired offerings like FTTH and cable modem, with 3G/4G mobile broadband in play as well. But satellite broadband will continue to play a role in the broadband landscape in the U.S. Despite it's, some would say, subpar broadband performance, and typically higher costs, satellite broadband will remain a viable option for a significant subset of broadband users for some time to come. The satellite broadband industry certainly isn't throwing in the towel.