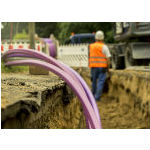 The FCC is getting set to restrict satellite broadband providers to lower-speed broadband and higher latency tiers in the RDOF (Rural Digital Opportunity Fund) auction scheduled to begin October 29. RDOF speed tiers will be used to assign weighting factors to auction bids with the goal of giving an advantage to bids to provide higher-speed service.
All satellite providers would be prevented from bidding in the gigabit speed tier, regardless of whether a satellite operator plans to use geostationary satellites or a fleet of non-geostationary satellites. Providers that intend to use fixed wireless or DSL will be allowed to bid in the gigabit speed tier, provided they can demonstrate to Commission staff during the short form process that the technology being used is reasonably capable of it. The proposed order says the commission will review fixed wireless or DSL bidders in the gigabit speed tier on a case-by-case basis.
Additionally, satellite providers would be prohibited from bidding to offer lower-latency service. Initially the FCC proposed only restricting providers using medium-altitude and geostationary orbits but apparently had a change of heart on low-earth orbit (LEO) providers.
"[W]e do not find it prudent to authorize bidding for performance tier/latency/technology combinations that lack a proven track record that deployment at the speeds and latencies we expect will actually occur," the FCC wrote in the draft of an order about RDOF auction procedures made public this week. The commission will vote on the order at next month's open commission meeting.
The RDOF auction "is not the appropriate venue to test unproven technologies using universal service support," the FCC continued. "We are guided by our obligation to preserve the Universal Service Fund and do not want winning bidders and support recipients to default and strand customers with no service, unreliable service or with service that is not reasonably comparable to service offered in urban areas."
RDOF Speed Tiers
The FCC previously established four speed tiers for the RDOF, ranging from a minimum performance tier of 25/3 Mbps to the gigabit performance tier.
The RDOF auction will award funding to help cover the cost of providing broadband in areas that currently lack service at speeds of at least 25/3 Mbps. The proposed RDOF speed tiers were based, in large part, on the Connect America Fund CAF II auction, which also used a weighting system. Nearly one fifth (19%) of locations that had winning CAF II bids were for gigabit service.
The FCC's decision to prohibit satellite providers from bidding as low-latency providers is bad news for LEO operator SpaceX. Back in February, SpaceX met with FCC officials to argue that the LEO approach would support low-latency service.
ViaSat, which operates geostationary satellites, was a big winner in the CAF II auction, despite not being able to gain the lower-latency bidding advantage. But it will be more difficult for satellite providers to win in the RDOF auction because of adjustments made to the low-latency weighting factor.
The RDOF auctions procedure draft order also outlines the network construction plans that all bidders will be required to submit. These include details about oversubscription rates and the like.
RDOF Challenge Process
Additionally, the draft order offers a bit more information about an issue Telecompetitor raised yesterday. Although the proposed RDOF auction schedule released this week did not say when a final list of areas eligible for the auction would be released, the order states that the list will be published at least 14 days prior to the October 29 auction start date and that it will "incorporate" comments received during the "limited challenge process."
This post has been updated to clarify DSL and fixed wireless technology categories.