A new regional fiber network built by two small local telcos not only will bring higher-speed connectivity to communities in six states. It also should enhance users' Internet experience in another way: It will minimize the number of carriers underlying users' end-to-end Internet connection, which should help minimize latency – an increasingly important consideration as the Internet increasingly supports real-time offerings such as video streaming services.
The Ritter/Fidelity Regional Fiber Network
The new regional fiber network comes from Arkansas-based Ritter Communications and Missouri-based Fidelity Communications  and will support broadband connections between 10 Mbps and 100 Gbps. The network will link Dallas and Memphis, serving rural communities in Arkansas, Louisiana, Missouri, Oklahoma, Tennessee and Texas.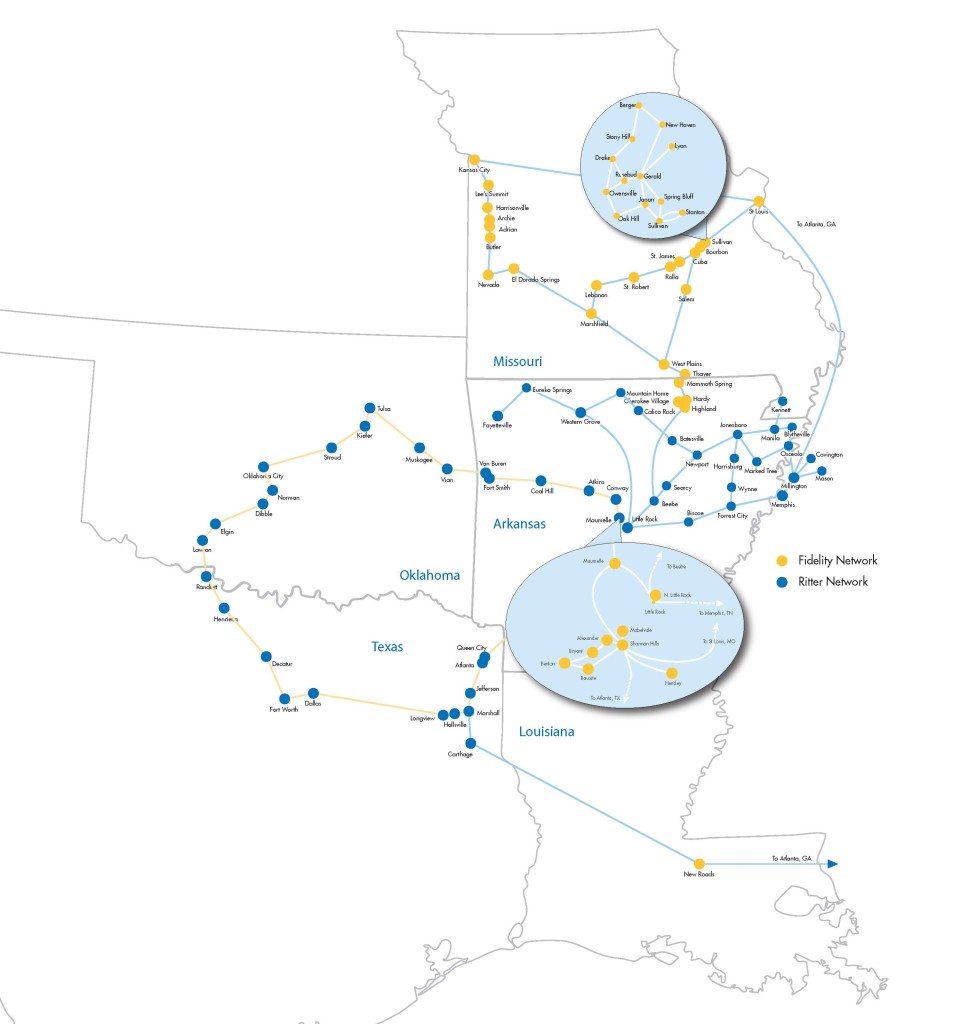 "The leg of the network that extends through Oklahoma and into Dallas is jointly owned and operated by Ritter and Fidelity," said a Ritter Communications spokesman in an email to Telecompetitor. "This allows both companies to avoid the middlemen when connecting to the larger carrier infrastructure in Dallas and other markets. By owning the network, it gives us access to the on-ramps/off-ramps at the various markets along the route."
Smaller network operators often rely on middlemen, known as transit providers, for connectivity to Internet exchange points. But the Ritter-Fidelity network has direct connections to major network operator hubs including the Telx facility and the InfoMart data center in Dallas, and the Level 3 data center in Memphis. Additionally it connects directly to both Ritter's and Fidelity's local fiber distribution networks and to regional hubs such as Oklahoma City, Tulsa, and Little Rock.
Interconnect points will enable the Ritter-Fidelity network to exchange traffic with more than 60 national providers. And in a fact sheet, Ritter notes that "by direct connecting to companies like Netflix, Hulu, Amazon, Limelight, and Google, we (Ritter and Fidelity) are able to improve our end user experience."