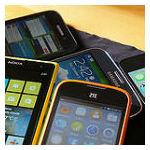 The revival of unlimited data plans took their toll on the wireless networks of the top two U.S. carriers since being reintroduced in February. T-Mobile network metrics gained ground, while 4G and overall wireless network speeds dropped at both Verizon and AT&T as their networks were swamped by the resulting deluge of wireless/mobile data traffic, according to OpenSignal's latest "State of Mobile Networks: USA" report.
Analyzing more than 5 billion measurements across nearly 173,000 devices taken from March 31-June 29, 2017, OpenSignal compared 3G and 4G mobile network performance for the nation's four largest carriers.
Verizon apparently took the biggest hit from the surge in mobile data traffic over the sample period that resulted from the reintroduction of unlimited data plans. According to OpenSignal, Verizon's average LTE download test results dropped 2 Mbps to 14.9 Mbps in the six months that elapsed since the previous report.
Speed Tests
Among other report findings, T-Mobile stood out from the pack, surpassing Verizon in every metric used. T-Mobile's download speed test results revealed that it ran the fastest mobile network in the nation during the three-month period with an average LTE download speed of 17.5 Mbps and an average overall speed of 16.1 Mbps.
Akin to T-Mobile, Sprint has been offering unlimited data plans for some time. And like T-Mobile, its wireless network speeds ticked up over the six-months between OpenSignal's tests. According to the published data, Sprint's average LTE download test speed increased from 9 Mbps in its previous study six months ago to 9.8 Mbps as of June 29. The rise wasn't enough to lift Sprint out of last place among OpenSignal's speed ratings for the nation's four largest carriers, however.
4G Coverage
T-Mobile also surpassed Verizon in terms of mobile LTE availability. Testers were able to find a T-Mobile 4G LTE signal 90.9% of the time as compared to 89.8% for Verizon.
In fact, signal availability improved for AT&T, Sprint and Verizon since OpenSignal's February report. Furthermore, subscribers to all four of the largest U.S. wireless/mobile carriers' networks for the first time were able to access LTE services more than 80% of the time.

Sprint's wireless network availability improved the most, coming in at 81.6% as compared to 76.8% as of February. According to OpenSignal's metrics, Sprint is now less than two percentage points away from matching AT&T in 4G availability.
Network Performance
T-Mobile took top honors nationwide with regard to wireless/mobile network responsiveness as measured by latency, as well as speed and availability. "T-Mobile's high-powered HSPA+ network has consistently ranked highest in 3G latency as well as speed, but in this test period it took the 4G latency award from Verizon. It's not that T-Mobile's latency score improved since our last report; rather Verizon's response time suffered in our latest tests," OpenSignal elaborated.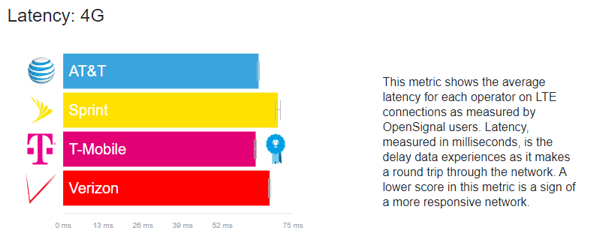 Congestion was the likely culprit for the drop in AT&T and Verizon's wireless/mobile network performance over the three-month period, according to OpenSignal. "Cellular networks are shared networks, meaning individual connection speeds are dictated by the total amount of demand for data at a particular cell site. If that demand increases — either through more customers or more data usage from existing customers — then average connection speed for all users starts dropping. We may well see this trend continue as more Verizon and AT&T customers take advantage of these new unlimited plans," it explained.
Regional Results
T-Mobile was the stand-out winner nationwide, but the picture is muddled in U.S. cities where T-Mobile and Verizon were in locked in heated competition. Verizon or T-Mobile either won outright or tied for the top spot in 4G wireless/mobile network speed and availability in all 32 city markets OpenSignal tested.
Breaking out the regional test results, Verizon earned first place rankings for 4G speed in six city/metro area markets and tied for first in 24. T-Mobile won 4G speed tests outright in four markets and shared the top spot in 25.
Turning to 4G availability, Verizon won outright in 14 markets. OpenSignal recorded two-way ties between T-Mobile and Verizon in every other market nationwide except Cincinnati. According to OpenSignal: "In our national metrics T-Mobile may have the awards, but Verizon is clearly going head to head with T-Mobile in the big cities and in many cases gaining the upper hand."
Verizon encountered a setback in this regard since reintroducing its unlimited data plans last spring. More broadly, the shift away from tiered to unlimited wireless data plans could have a lasting impact across all carriers and their customers.
"The more demand created for data, the more network resources get taxed. Unless operators make up the difference by adding more capacity, data speeds will slow for everyone," OpenSignal says.
Image courtesy of flickr user Jon Fingas.