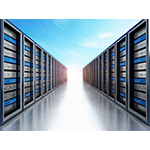 Thanks to corporations replacing legacy routers with software-defined wide area networking (SD-WAN), the global market for the SD-WAN technology jumped by 23% in the second quarter of the year, according to a new report from IHS Markit | Technology, now a part of Informa Tech market.
One customer alone had a SD-WAN deployment that reached 5,000 sites, the report added.
Among SD-WAN suppliers, VMware had the highest revenue share in the second quarter, followed by Cisco, Aryaka and Fortinet, respectively.
The research firm sees the rising number of remote and mobile workers as an important growth driver for SD-WAN appliances. Additionally, traditional SD-WAN appliances are still being installed in home-office environments even though compact appliances are the most cost-effective solution. As many as 200 appliances were installed in radiologists' homes in North America in the second quarter.
"In our discussions with vendors, it has become apparent that most recognize SD-WAN as a mainstream technology," said Josh Bancroft, senior research analyst at IHS Markit, in a prepared statement. "As a result, larger enterprises have begun to refresh their legacy, router-centric WANs with SD-WAN. Vendors are capitalizing on the refresh opportunities with customers that have large bases of aging router equipment."
Bancroft added: "In the future, we anticipate further deployments of SD-WAN appliances in the homes of remote employees, with either compact or more traditional appliance form factors being used. Bonding LTE and broadband links ensure[s] session failover for unified communications (UC) users. It also promotes the security of sensitive patient data through security policies that can be established at the device level by healthcare providers in orchestration portals."
Among the report's other findings:
SD-WAN vendors' revenue will rise to $4.4 billion in 2023.
Revenue for the application-delivery as-a-service segment expanded by 3% quarter-over-quarter to reach $24 million in the second quarter of 2019.
For application delivery controller vendors, hardware appliances decreased 2% quarter-over-quarter, virtualized appliances grew 4% and virtualized-software-only ADCs expanded by 23%.