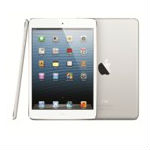 Samsung came on strong in the media tablet marketplace this past year with the Samsung Galaxy Tab gaining 5.8 market share percentage points, but Apple continues as the clear market leader, according to Jumptap's August MobileSTAT. Having come on strong after Christmas 2011, Amazon's Kindle Fire has faded, losing 11.4 market share points, while Google's Nexus, following the release of three generations in a year, finally appears to be gaining some market traction, researchers said.
Commenting on the results of its latest MobileSTAT report on trends in mobile advertising, Jumptap VP of marketing Matt Duffy stated, "Previously, the iOS vs. Android battle could not crown a standing victor for Android. Yet in the past year, we've seen Samsung rise above the pack in both tablet and smartphone share."
Also among the report's key takeaways:
iPod Losing Touch: According to data from the Jumptap platform of over 218 million U.S. consumers, the iPhone continues to grow as the top smart device, and has increased its share by 9.6 percentage points year-over-year. Its step-sister, the iPod Touch, has lost share – a significant 10.1 percentage points – signaling that consumers are beginning to see less value in a smart device without phone call capabilities. Meanwhile, Samsung devices, led by the Galaxy S, continue to gain share.
Samsung Device Sitting Pretty at Number 2 Spot: Apple device share remains relatively flat year-over-year, but continues to hold strong at the number 1 spot. Samsung share, on the other hand, has leapt 5 percentage points over the previous year, which strengthens its number 2 positioning. Blackberry and HTC face the most challenging struggle, with HTC's global market share dropping to 5.3 percent in the first quarter – from 9.3 percent a year earlier – according to analyst firm Gartner.
Apps Continue to Dominate the Mobile World: According to ad requests on the Jumptap platform, 84 percent of mobile traffic now comes from apps. Just two years ago, the split was roughly 50/50. At the time, some experts predicted the death of the mobile app as companies began to build responsive, cross-platform mobile sites. It now seems that reports of the death of apps were greatly exaggerated.
Feature Phone Users Tend to Be Southern, Older: According to Gartner, smartphones finally outsold feature phones worldwide. Yet with an abundance of non-smartphones still in existence, who are these feature phone-wielding consumers? Data from comScore and the Jumptap platform show feature phone users over-index as being concentrated in the South, older, lower in income, and/or likely to be customers of T-Mobile or Cricket.