A new report from iGillott Research for the Foundation for Rural Service (FRS) estimates the value of rural online transactions at nearly $1.4 trillion annually – about 14% of all online transactions or seven percent of the U.S. gross domestic product.
The report, titled "A Cyber Economy: The Transactional Value of the Internet in Rural America," found few differences in the value and amount of transactions for the average rural and average urban consumer.
"Access to the internet is key to almost everything we do today—connecting us to education, healthcare, job opportunities, entertainment, and so much more," said FRS Executive Director Jessica Golden in a press release about the report. "I hope this paper helps emphasize that the connectivity and quality of life that we at FRS work so hard to advance are intertwined and should be of national importance. The rural and urban economies are co-dependent, and online transactions help to support both."
Rural Online Transactions
iGR researchers looked at nine categories of online transactions, including automotive; utilities and communications; home services; products, over-the-top video; financial; grocery, takeout and reservations; health care and travel. On average, rural respondents order products from one of those categories online 3.5 times per month, in comparison with 3.75 times for urban respondents.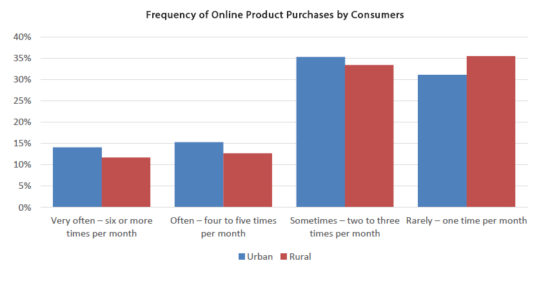 Those differences that researchers did find are logical ones. Usage of over-the-top video was somewhat lower for rural residents in comparison with urban residents – perhaps because broadband speeds in some rural areas are not high enough to support a good OTT video viewing experience.
Rural residents also were considerably less likely to order takeout food online in comparison with urban residents, most likely because some rural residents live a long distance from the closest source of takeout food.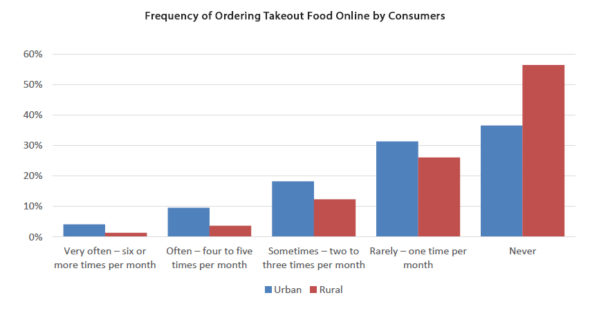 Rural residents also tend to be a bit older, on average, in comparison with urban residents and in general, younger people are more likely to conduct transactions online.
Other key findings of the FRS report:
Rural residents were slightly more likely to be "very heavy" internet users, defined as those using the internet more than six hours per day. This category included about 33% of rural residents, in comparison with about 29% of urban residents.
On average, urban consumers use the internet 4.5 hours per day, in comparison with 4.6 hours per day for rural consumers.
The estimated annual value of smartphone transactions is $10,835 for urban users and $7,236 for rural residents.
The estimated annual value of desktop/laptop/tablet transactions is $30,728 annually for urban residents, in comparison with $21,318 for rural residents.
The average value per urban smartphone transaction was $123.18 for urban residents and $113.15 for rural residents.
The average value per desktop/laptop/table transaction was $145.95 for urban users and $129.31 for rural users.
Implications
An important takeaway from the iGR report is that rural residents are important contributors to the online economy – a finding that suggests that good rural broadband connectivity not only benefits rural residents but also the businesses that conduct business online with those rural residents.
A 2016 report from the Hudson Institute estimated that rural broadband also supports about 70,000 jobs.
As a follow-on to the new iGR research, it would be interesting to look at the potential lost value of online transactions for rural residents who do not have broadband access. While some of these transactions would occur anyway using traditional purchase methods such as visiting a store, others – such as OTT video viewing – may simply be lost opportunities.
Image courtesy of flickr user María de los Angeles Quiroz.