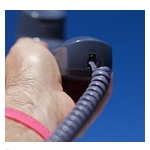 Whether it's choppy voice communications or missed calls, poor indoor cell phone reception prompts 18 percent of survey respondents to keep a landline according to market research commissioned by zBoost, a subsidiary of Wilson Electronics that specializes in providing cellular signal boosting technology.
Commissioned by zBoost, Harris Poll conducted an online survey of 2,024 adults 18 and over from December 17-19, 2014. Commenting on the results of the zBoost Smartphone Survey, President Karen Reynolds stated "Most of us have experienced that 'Can you hear me now?' moment where we can't hear someone on our mobile phones. Eighteen percent of consumers are tied to landline phones due to poor signal."
Indoor Cellphone Reception Work-Arounds
Results of an earlier survey conducted by Harris Poll for zBoost in August 2014 revealed that 97 percent of mobile phone owners make phone calls indoors. Sixty-four percent of them said they have never taken any steps to boost indoor cell reception.
Thirty-two percent said they have. Steps taken to boost indoor cell reception include:
Heading outside – 16%;
Standing still like a statue – 7%;
Making a run for the window – 6%;
Moving like a ninja – 2%;
Posing like a Yogi – 1%;
Talking in the garage – 1%;
Making Matrix moves – 1%.