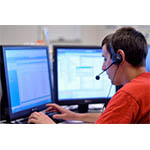 Americans are reaching out for help in the management of their electronic devices and smart homes, according to Parks Associates. The firm reports that more than 20 percent of broadband households have some form of tech support subscriptions.
Currently, according Parks research, electronics retailer Best Buy is the leading provider of these services. The firm says that the company's position may be threatened by Amazon HomeServices, which recently announced that it is entering the smart home tech support sector. HelloTech also is a new entrant.
"The market for support subscriptions is fragmented, with no single player having more than one-third of support subscribers for any device," said Patrice Samuels, a Senior Analyst for Parks Associates.
The report says that Best Buy has 29 percent of the subscription support sector for flat panel TVs and 22 percent of the laptop sector. Dell, HP, AT&T, Norton and Verizon offer similar laptop services.
Device Categories
There are five categories of devices mentioned by Parks: Smartphones, smart watches, laptops, flat panel TVs and home network routers. In all cases, subscription technical support plans and extended warranty/protection plans are offered. The latter are the most popular except for home network routers. In that category, subscription technical support plans predominate. A significant minority of customers take both plans. Overall, however, greater than 65 percent of device owners carry no extra services.
The entrance of Amazon is expected to shake things up. Parks says that the company will offer a range of smart home support services. The arrival of the giant company is "likely influencing" the move to offering one-time user fees for services.
Other key findings include:
A reliance on retailers for professional smart home support has increased 50% since 2015.
More consumers contact the device manufacturer for help with resolving technical problems than any other support provider type.
The percentage of consumers who report a preference for setting up their devices themselves increased from 33% in 2015 to 49% in 2017.
The research highlights a growing business opportunity for service providers to consider.
Image courtesy of flickr user tyle_r.