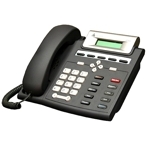 Growing adoption and use of cloud computing and communications systems is on the rise, boosting use of IP telephony and unified communications and collaboration (UCC) services. A new market research report from Frost & Sullivan says end-users are taking a closer look at the quality and reliability of vendors' offerings, which has resulted in vendors intensifying their service differentiation efforts, as well as merging with or acquiring rivals.
North America's installed base of hosted IP telephony and UCC services systems reached 8 million users in 2014. The market research provider expects that will rise to 41.9 million by 2021, according to a press release.
Who Are the Hosted VoIP/ UC Users?
Small- and medium-size businesses (SMBs) will drive market growth, according to Frost & Sullivan's ¨Analysis of the North American Hosted IP Telephony and UCC Services Market.¨ Larger, more dispersed businesses will follow suit as they seek to consolidate communications infrastructure and provide wider, more flexible access to computing and information resources.
"Budget and resource constraints, as well as the appeal of faster access to advanced features, and the ability to supplement limited in-house IT staff, are lending momentum to hosted services among SMBs," commented UCC program director Elka Popova. "Among larger distributed organizations, concerted service provider efforts, in addition to maturing technologies and business models, will drive adoption."
Rapid growth in hosted IP telephony and UCC services among large businesses will improve industry profitability in North America as customers require more features and typically sign longer term service contracts, Frost & Sullivan says. Differentiating the overall value of their offerings will provide an added boost.
Cloud systems' security and control will continue to be focal points for prospective customers. Furthermore, subscription pricing and fully managed in-house solutions lead customers to stay with or upgrade their existing solutions.
Customer concerns regarding service quality, reliability, customization and integration wind up tipping the scales in favor of in-house deployments, Frost & Sullivan points out.
"Going beyond features and functionality, service providers must offer strong customer on-boarding, consistent support, a balanced mix of automated sales and consultation, as well as efficient service provisioning and upgrades," urged Frost & Sullivan Unified Communications & Collaboration Program Manager Robert Arnold. "With entrants vying for market share and many participants joining forces through mergers and acquisitions, vendors must align their growth objectives with market needs, portfolio capabilities, and marketing approaches to carve their place in the still-untapped North American market."