More than 20 million U.S. homes (20.5 million) are now connected to fiber broadband service, according to new research conducted by RVA for the Fiber Broadband Association. That's a substantial increase since last year, when a similar FBA report found 18.4 million U.S. fiber broadband homes.
Fiber broadband has been making gains against DSL and fiber-to-the-neighborhood (FTTN). According to the researchers, 2019 was the first year when more U.S. homes received broadband service via fiber than via DSL or FTTN. That milestone makes fiber broadband the second most popular choice after cable modem service.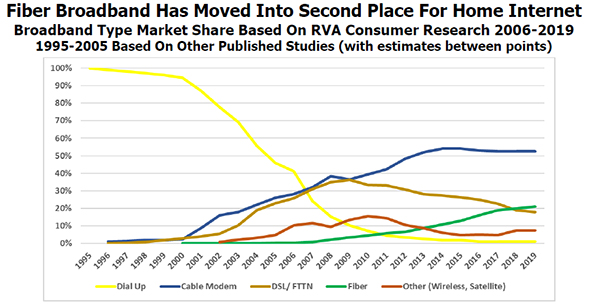 Network operators have passed nearly 40% of U.S. homes with fiber broadband, the researchers said.
U.S. Fiber Broadband Households
Fiber broadband service has a 44% average take rate in areas where it is available, according to the FBA report. When households without home internet service are excluded, the take rate rises to 66%.
The researchers expect the average take rate to decline temporarily in 2020 as the result of a large amount of new fiber deployment. It generally takes a few years after deployment for take rates to begin to peak.
A wide range of network operator types have deployed fiber broadband. Tier 1 incumbent local exchange carriers (ILECs) have the lion's share of the market, representing 70.9% of homes that have fiber broadband marketed to them. Following them are Tier 2 and 3 carriers, representing 10.8% of the total, followed by competitive LECS (8%), cable companies (5.3%), public municipalities (3.2%), real estate development integrators (1%) and rural electric cooperatives (.8%).
These numbers changed only slightly since last year's report. But we may see a substantial jump in rural electric cooperative fiber broadband deployments in 2020, as the number of rural electric co-ops has been climbing steadily – from 35 in 2016 to 111 in 2019.
Overall, fiber broadband deployments may decline slightly in 2020, however, according to the researchers, who attribute the anticipated dip to an expected decline in AT&T fiber broadband deployment.
Smaller providers, numbering over 1,000, are expected to represent 25% of the 2019 fiber broadband build, while five large providers are expected to comprise the other 75%.