AT&T fiber service offers the best broadband connectivity, followed by CenturyLink Fiber, according to the American Customer Satisfaction Index (ACSI) Telecommunications Study 2022-2023.
AT&T Fiber was the top ISP — fiber or non-fiber — with a score of 80 on a 100-point scale. CenturyLink scored 78 for fiber connections and Google Fiber scored 76. The fiber-based ISPs outpaced their non-fiber competitors. Beyond the top three, there was Verizon Fios (75), Frontier (fiber) (74) and Xfinity (fiber)(73).
On average, fiber connectivity scores a 75 for customer satisfaction, far ahead of non-fiber connectivity (66). The top non-fiber ISPs were T-Mobile (73), AT&T non-fiber (72) Sparklight (71), Kinetic by Windstream (70) and Xfinity (68).
Though it was among the top fiber ISPs, CenturyLink's non-fiber service scored poorly for broadband satisfaction (62), though ahead of Frontier Communications (61) and Optimum (58).
Fiber also bested non-fiber in terms of Wi-Fi quality, according to the study. Fiber ISPs scored 79, which was better than the score for nine non-fiber ISPs (73) and third-party equipment providers (70).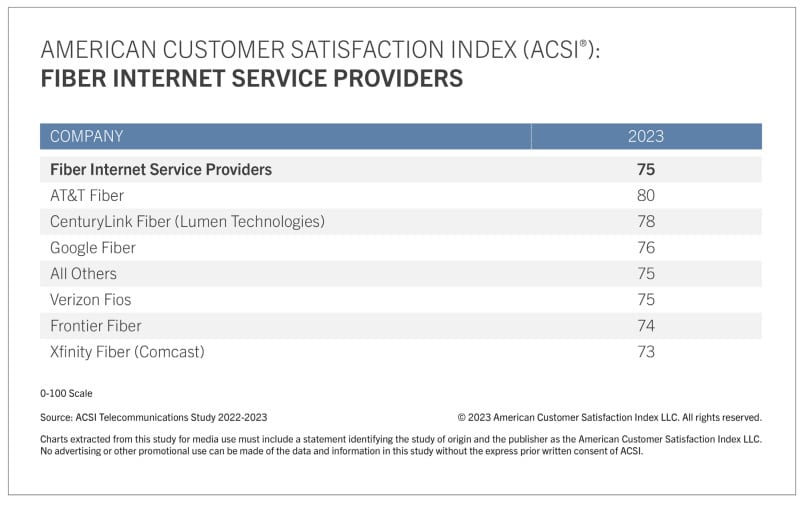 "Across the entire customer experience, fiber service shows a strong advantage — from data transfer speed and service reliability to touchpoints like call centers and websites," Forrest Morgeson, director of research emeritus at the ACSI and Michigan State University assistant professor of marketing, said in a prepared statement. "That said, with well over half of U.S. households lacking access to fiber internet, availability remains a sticking point. As such, non-fiber ISP services remain an attractive option for many customers and should not be overlooked by providers."
A separate ASCI report said recently that consumer satisfaction with wireless has dropped.