Americans spend an average 58 minutes each day using their smartphones – 26% of the time talking, 20% texting, 16% on social networks and 14% browsing the mobile Web, according to new data from Experian Marketing Services' Simmons Connect mobile and digital panel.
Emailing and playing games took up around 9% and 8%, respectively, of the time Americans spent using their smartphones, while using smartphone cameras and GPS each accounted for another 2% of usage time, Experian found.
Experian also found "clear differences" in usage patterns between different mobile operating systems (OS). For instance, iPhone users spend 75 minutes each day using their devices, "a full 26 minutes more than the typical Android phone owner."
There are also marked differences in the way Android and iOS-iPhone users use their smartphones: Android users spend 28% of their time talking on their devices, whereas iPhone users spend only 22%.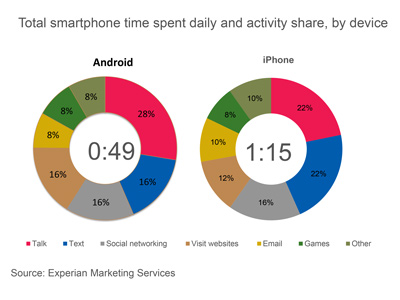 Android owners also spend a greater share of their device time visiting websites, Experian found. On the flip side, iPhone owners spend a greater percentage of device time texting, emailing, using cameras and social networking.
Watching video accounted for less than 1% of American users' daily average smartphone time. That's based on all survey respondents, including those who don't spend any time in a given activity during a typical day, so Experian filtered through and honed in daily usage data for only those individuals who engaged in a particular activity on a typical day.
At 79%, talking was the most common daily activity for US smartphone users. Texting (76%) and visiting websites (62%), emailing (61%) and social networking (52%) followed.
Just 2.3% of smartphone owners watch video on a typical day, while only 0.5% use their devices for reading on a daily basis. Those who watch videos on their smartphones on a daily basis spend an average 5 minutes doing so spread out over 4.2 viewing sessions, according to Experian.