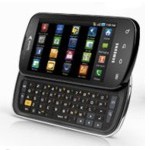 We most often hear of wireless substitution in connection with voice service. But as a new Pew Internet Project report  reminds us, it's happening in connection with Internet service as well.
A quarter of smartphone owners in a recent Pew survey said they mostly go online using their phone, rather than a computer—and of those roughly one third lack a high-speed home broadband connection. That's about 8% of smartphone owners.
Looked at another way, about 42% of cellphone users in the survey said their phone is a smartphone, indicating that a bit less than 3.5% of cellphone users are forgoing a landline broadband connection. And considering that 83% of U.S. adults have cellphones this translates to a bit less than 3% of the U.S. adult population.
Those may not seem like big numbers. But it wasn't long ago that only 3% or so of phone users were cellular only—and considering how quickly that number has climbed, it may not be long before we see a similar trend on the Internet side. A recent report from the CDC National Center for Health Statistics, for example, found that a quarter of U.S. homes now are cellphone-only.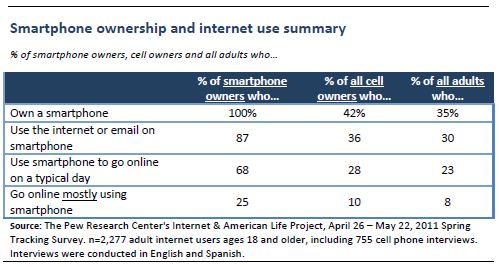 A look at how smartphone owners use their devices supports the notion that the number of cellphone-only Internet users could climb rapidly. Eighty-seven percent of smartphone owners use the Internet or email on their smartphone, and 68% use their smartphone to go online on a typical day, the Pew report found. And the more people use their smartphones for purposes such as those, the more they may question why they need a landline connection.
Of course, some people may be relying on their smartphone for Internet connectivity because they can't afford landline broadband as well. Smartphone owners with relatively low income levels are particularly likely to say that they mostly go online using their phones, the Pew survey found.
Some other key findings of the Pew survey:
Android is the most popular smartphone platform, representing 35% of smartphone owners, followed by iPhone and Blackberry, which tied at 24% of smartphone owners apiece.
Android phones are especially common among young adults and African-Americans, while iPhones and Blackberry devices are most prevalent among college graduates and the financially well off.
Several groups have higher than average levels of smartphone adoptions, including the financially well off and well educated, those under the age of 45 and African-Americans and Latinos.
The Pew findings were based on a national telephone survey of 2,277 adults conducted in April and May. About two thirds of interviews were conducted by landline phone and about one third were conducted by cellphone.