New market data from Parks Associates reveals the growing extent OTT services are being used in U.S. broadband households. According to Parks' OTT Video Market Tracker, OTT services were used in about 6 in 10 U.S. broadband households in the past 30 days, the market researcher announced November 17.
More than one-quarter of U.S. broadband households have used at least one OTT video service in the past 30 days. Six in 10 (59 percent) subscribe to an OTT video subscription service and pay a monthly fee, according to Parks' latest market research.
Top 10 OTT Subscription Services
Tracking developments for more than 100 OTT North American video services, Parks also ranks the top 10 OTT subscription services in the U.S. in its latest report. Netflix continues as the top-ranking OTT subscription video service, with Amazon Video and Hulu following in second and third place, respectively.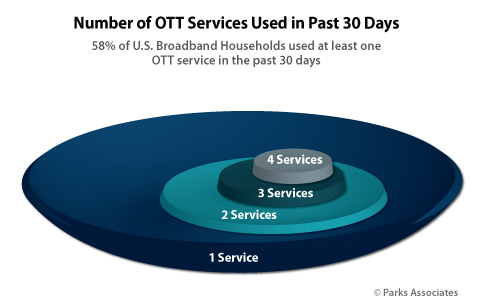 "The number of new services and continued growth for many existing services show the vitality of the OTT video services market in the U.S.," commented Brett Sappington, Parks' director, research. "While Netflix holds a substantial lead, new and emerging OTT services are establishing their own place in the market."
Providers of OTT sports coverage captured three of the top 10 OTT spots, Parks highlights. MLB TV earned a fourth-place ranking, with WWE Network following in fifth place. NFL Game Pass also made Parks' top 10, placing eighth.
Crunchyroll ranked seventh and The Blaze ninth. Rounding out the top 10, just a few months after its introduction, HBO GO placed sixth. Launched at the beginning of the year, Dish's SlingTV earned a 10th place spot.
Crunchyroll is a U.S. website and international online community that that focuses on video streaming media from East Asia. Founded by University of California, Berkeley graduates, Crunchyroll's content spans anime, manga, drama, music, electronic entertainment and auto racing. It's regionally focused East Asian video streams reach more than 5 million community members.
In contrast, ninth-ranked The Blaze bills itself as a multi-platform streaming video news and information website, TV network, digital radio network and small business marketplace. Launched in 2010, the website now ranks among the top 100 in the world. In 2011, The Blaze expanded to include TheBlazeTV, a subscription streaming network that has attracted hundreds of thousands of paying subscribers, according to management.
"Importantly, the market for OTT video services is just getting started. With several offering new, original content and Internet giants like Yahoo! purchasing broadcast rights to major sporting events, more consumers will look to OTT video services in the future," Sappington added.