Fifty-two percent of U.S. broadband households subscribe to pay-TV and OTT video service — sometimes more than one OTT video service, according to Parks Associates. The firm's "Market Snapshot: OTT and Pay TV: Partnerships and Competition" report found a transforming marketplace.
"Today, it is less about replacing competitors and more about how you complement others in the market," Brett Sappington, Parks' Senior Director of Research, said in a press release. "Over one-half of U.S. broadband households have a combination of pay TV and at least one OTT service. Consumers are willing to carry multiple video accounts to get the content they want. Often they will select a preferred service with the content that they can't do without and then select other video services that complement the high priority option."
The rise of OTT and correlated shrinkage in over-the-air broadcast is particularly strong among younger heads of households.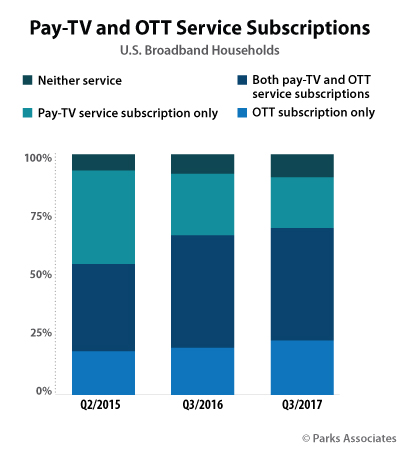 Why Households Subscribe to Pay-TV and OTT
Other key findings from the report:
The percentage of U.S. broadband households with a pay-TV subscription fell from 87% to 77% between 2017 and last year.
11% of broadband households use antennas to watch over-the-air broadcast TV channels
Approximately 33% of Cord Cutters would have stayed with their service provider if offered a Netflix-style service bundled with broadcast TV channels.
5% of U.S. broadband households have never subscribed to a pay-TV service.
8% of U.S. broadband households have recently downgraded their pay-TV service and supplement viewing with video on an internet-connected device.
The growth of OTT and the changes in the video landscape are happening quickly. Last month, Amazon and Best Buy said that they will sell the next generation of Fire TV Edition televisions from Toshiba and Insignia in the U.S. and Canada. Best Buy will sell the devices across several channels and as a third-party seller on Amazon.com. Fire TV combines live, over-the-air television and streaming in the same set.
Last month also marked the launch of ESPN+, a streaming OTT service featuring live sports, on-demand content, original films and shows and studio programming. The ambitious undertaking will feature content from MLB, the NHL, MLS, colleges and many other high profile sources.
Image courtesy of flickr user D.Reichardt.