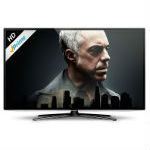 Amazon and Best Buy are teaming up to sell the next generation of Fire TV Edition televisions to U.S. and Canadian customers.
Best Buy will start selling ten 4K and HD Fire TV Edition models from Toshiba and Insignia, beginning this summer. Additional models will be offered later this year. Fire TV Edition smart TVs will be available exclusively in Best Buy stores, on BestBuy.com, and for the first time, from Best Buy as a third-party seller on Amazon.com.
The newly designed smart TVs come with Fire TV built in, bringing together live, over-the-air TV and streaming content into one location. A consumer can connect any HD antenna and instantly use Alexa to search for and watch broadcast TV, or to choose from a catalog of streaming TV episodes and movies from Netflix, Prime Video, HBO, PlayStation Vue, Hulu, and others.
Fire TV Edition includes a Voice Remote with Alexa for launching apps, searching for TV shows, playing music, switching inputs, controlling smart home devices, and more. It can also be paired with any Echo device, allowing customers to easily use their voice to control their TV experience hands-free with Alexa, according to a press release.
The partnership with Amazon is an example of Best Buy's role in working with technology companies, helping to commercialize their innovations. The company accomplishes this through curation of the technology it sells online and in stores; in-store demonstrations offering hands-on experiences for customers; needs-based selling expertise designed to solve problems and address lifestyle needs; and, services that support customers in installing, setting up and operating technology, the company said.
"Amazon and Best Buy have a long history of working together, and today we take our partnership to a new level," said Jeff Bezos, Amazon founder and CEO, in a prepared statement.