Households participating in the Affordable Connectivity Program (ACP) are using more broadband in comparison with the broader population of homes, according to OpenVault Broadband Insights (OVBI).
The ACP was launched by the FCC in January. It provides eligible households monthly discounts of as much as $30 on broadband subscriptions. The discounts are as much as $75 on Tribal lands.
"Early indications suggest these participants have a healthy appetite for broadband, driving significantly higher usage patterns in comparison with the average subscriber," according to the report. "With close to one-fourth (23.8%) of ACP participants qualifying as power users, the impact of an expanding ACP subscriber base has significant implications for broadband traffic, particularly in the last mile."
The second quarter report from the firm traced heavy usage by ACP households during the second quarter of the year:
ACP participants' average usage of 654 GB per month was 33.3% higher than the average of 490.7 GB for all subscribers.
ACP participants' median usage of 499.3 GB per month was almost 60% higher than the median of 313.9 GB per month for all subscribers.
ACP households were 36% more likely to be power users of 1 TB or more, and 52% more likely to be super power users of 2 TB or more.
The second quarter report also found that usage for subscribers on usage-based billing (UBB) is growing more quickly than usage for subscribers on flat rate billing (FRB) plans. During the second quarter, usage by UBB subscribers grew 20.6% year-over-year to 310.7 GB while usage by FRB subscribers grew 8.1% to 322 GB.
Other findings in the 2Q22 report include:
Average monthly usage of 490.7 GB dropped below the half-a-terabyte mark for the first time since the third quarter of 2021 but still was up 13.1% from the second quarter of 2021 average of 433.5 GB.
Thirty-six percent of all subscribers consumed half a terabyte of data each month in the second quarter of 2022.
In four years, the number of super power users consuming 2 TB or more has increased more than 2,200%. Super power users now represent 2.21% of all subscribers, while power users of 1 TB or more represent 13.6% of all subscribers.
The average upstream data usage of 31.2 GB in the second quarter of 2022 is 2.3 times the 2018 average of 13.6 GB.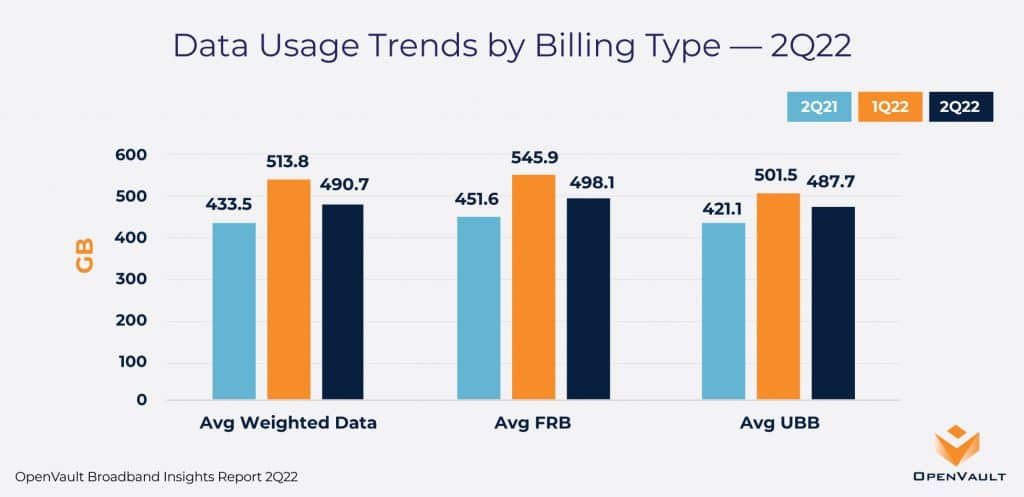 The ACP program has grown significantly since its inception. In August, the FCC sought to build on that popularity with the approval of a plan to promote the program through two programs: a five-year grant program and a program entitled "Your Home, Your Internet."
However, the program has gotten some unwelcome attention as well. Last week, the FCC´s Office of Inspector General (OIG) said that some ACP providers and their agents were making fraudulent program enrollments by using the same child or dependent to qualify for simultaneous ACP support for multiple households.