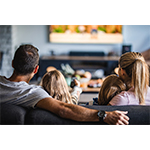 More than half of Americans stream over-the-top (OTT) services, according to new OTT video market research from OpenX and The Harris Poll.
OTT video used by 52% of all respondents, including 65% of those in the 18- to 34-year old age bracket. Seventy percent watch in bed, 30% while on vacation, 21% at their work desk and 30% in the bathroom. The survey found that 15% of OTT users watch no live television and most OTT users watch more of it than traditional television daily.
The survey found support for subscription, ad supported and hybrid approaches. "Consumers have very different feelings about how they want their OTT content paid for, creating multiple opportunities for providers to monetize their services," the report reads. "A slim majority of viewers would prefer a cheaper or free ad supported service rather than a more expensive service with no ads. However, people are divided on exactly what this looks like and as a result, it is likely diverse billing models will emerge."
More than half – 52% — say they miss nothing about cable or satellite television. The others mainly miss five things: Live events (23%), local national programming (22%), live sports (19%), learning about new products (8%) and live talk shows (7%).
OTT users are very mobile. The survey found that the average across the surveyed group was 6.2 hours daily spent on a mobile device. This includes 7.2 hours daily by millennials, 6 hours by Gen Xers and 4.2 hours by baby boomers. Of the average 6 hours, about two hours are spent watching video.
In March, Parks Associates said that consumer spending on OTT is a bit less than $8 per month, a figure that has remained steady for the past three years.