Consumer spending on subscription OTT services averages a bit under $8 per month, according to Parks Associates. The market research firm reports that this OTT ARPU figure has remained steady for the past three years.
According to Parks, penetration has grown during this time, so one possible result suggests that adoption of multiple or more expensive services by some is being offset by a larger base of consumers who spend on one or two relatively inexpensive services.
Changes may be afoot, however. "The stability in average household spend belies the activity going on under the surface," Brett Sappington, Parks' Senior Director of Research, said in a press release. This year, he said, "may be poised to break that trend. Netflix, Hulu, and Amazon continue to pack on new subscribers. At the same time, services like ESPN+ are also experiencing phenomenal growth, and new offerings from Disney and WarnerMedia are set for release later this summer. One of three things will happen—more households will become OTT streaming households, rival services will begin to pull subscribers away from Netflix, or that spending number will go up."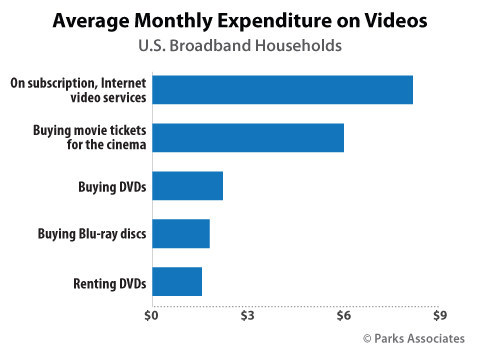 OTT Bundles
Clearly, the broad video sector is maturing and subscribers are becoming more discerning in how they go about using these services. This week, Deloitte released a report that suggests consumers are creating their own pay TV and streaming services bundles in an effort to access their favor content.
The study also found that there are so many choices that consumers may be getting a bit fatigued. The firm found that 69% of U.S. households have at least one video streaming service. Sixty-five percent have a pay-TV service and 29% have a live TV streaming service. The dominant factor is high quality original content. The study found that 57% of streaming customers are seeking access to original content. That segment jumps to 71% among millennials.