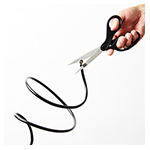 New broadband usage data from OpenVault reveals that video cord cutters, on average, use more than half a terabyte of broadband bandwidth per month. That usage behavior is more than double the 275 GB the average broadband subscriber uses, according to OpenVault's data, which aggregates broadband usage from millions of subscribers across the U.S. and Europe.
The third quarter 2019 OpenVault Broadband Industry (OVBI) report found that usage is rising across all subscriber categories, including power users. The report also found that usage patterns differ between subscribers utilizing usage-based billing and flat-rate billing (UBB and FRB). FRB is consistent with unlimited data usage plans, while UBB is consistent with usage-based billing plans for broadband.
The firm found that the overall weighted average of broadband usage was 275 gigabytes during the third quarter, an increase of 21% compared to the third quarter 2018 average of 228GB. During the same period, the median monthly weighted average jumped from 118.2 GB to 147.4 GB, an increase of almost 25%.
Other key findings of the report:
Average consumption by cord-cutter subscribers was 520.8 GB, an increase of 7% in Q3 alone and almost double the monthly weighted (UBB plus FRB) average subscriber usage of 275.1 GB.
The percentage of cord cutters who are "power users" consuming 1 TB or more of data per month is 12%, almost triple the 4.2% Q3 figure for weighted average subscribers.
The total number of power users increased 62% year over year-over-year, driven largely by FRB subscribers.
UBB subscribers chose 1 Gbps packages at a rate that is 89% higher than that of FRB subscribers
European and North American usage patterns are virtually identical in the 50 Mbps to 75 Mbps range. However, North American subscribers consumed more at the lower levels. They used about 150% more in the 30 Mbps to 40 Mbps range and almost 50% more in the 10 Mbps to 20 Mbps range.
While video cord cutting dramatically increases bandwidth usage, customer actions seem to not be in line with that new demand. The report says that only 29% of customers upgraded broadband packages, while two-thirds remained the same and 4% downgraded when cutting the video cord.
This could be a good time to sell more bandwidth, the report suggests. "A cord cutting event usually signals a need for faster broadband speeds. Cord cutters are opting for high-bandwidth OTT services, and are using multiple devices in the home to consume video, often simultaneously.  This behavior lends itself to higher speed, higher margin broadband packages to ensure an acceptable broadband CX and the cord cutting event is the best time for operators to educate customers and upsell them accordingly."
In August, OpenVault reported that customers' broadband usage increases in the months leading to the cancellation of pay-TV services. This information can be useful in predicting cord cutting. The firm found a 14% increased difference in broadband usage between cord cutters and average subscribers six months before the subscriber ends pay-TV service. That percentage rose to 30% in the month before the cut and even more– 70% — during the three months following cord cutting.