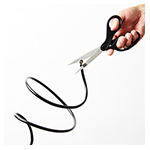 Customers broadband usage jumps in the months leading up to a decision to cancel pay-TV service, according to new research from network analytics provider OpenVault – a finding that could be useful in predicting cord-cutting.
"Given the potential disruption that cord-cutting can have on operators, understanding when and if a subscriber will cut the cord is valuable market and network operations intelligence," said the "Q2 OpenVault Broadband Industry (OVBI) Report."
Predicting Cord Cutting
OpenVault looked at a database that included thousands of subscribers who cut the pay-TV cord in March 2019. In comparison with "bundled" customers subscribing to both pay-TV and broadband, the customers that cut the cord used more data each month for several months leading up to the cord-cutting event. And after the event, usage spiked dramatically.
As OpenVault explained in a press release, the difference in broadband usage between cord-cutters and average subscribers rose from 14% six months before the event to 20% in the month immediately prior to the cord-cutting event and 30% in the month that the cord was cut. In the following three months, the difference rose to nearly 70%, according to the report.
Although the researchers didn't speculate on customers' motivation, customers may have subscribed to an over-the-top video offering prior to the decision to cut the pay-TV cord, which may have led to their increased data usage in comparison with bundled homes. And once the cord was cut, those customers likely became heavier OTT video viewers.
Overall, internet-only households (those without a pay-TV subscription) consumed 85% more bandwidth than bundled households in 2Q19, researchers said.
OpenVault's platform captures data usage from end-users, and the company's research is based on that aggregate data. OpenVault's inaugural OVBI report came out three months ago.
It will be interesting to compare OpenVault research over time to see how broadband usage patterns among bundled and internet-only homes change from quarter to quarter.