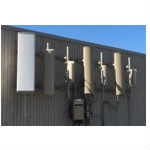 Verizon and Ericsson today announced they have completed their first FDD (Frequency Division Duplexing) Massive MIMO deployment (Multiple Input – Multiple Output) on Verizon's wireless network in Irvine, Cal., which is seen as a major stepping stone to 5G service.
According to the companies, the Massive MIMO deployment will improve spectral and energy efficiency, increasing network capacity for current devices in the market.  Other network enhancements are expected to provide higher and more consistent speeds for using apps and uploading and downloading files, clearing the pathway for 5G deployment.
Verizon Massive MIMO Deployment
The deployment includes 16 Ericsson transceiver radio units driving an array of 96 Ericsson antenna elements supplied by Ericsson.  The deployment is running on a 20 MHz block of AWS spectrum.  Four-way transmit has been widely deployed throughout the Verizon network and has contributed to significant 4G LTE advancements, according to the announcement. The high number of transmitters from the Massive MIMO provides more possible signal paths.  It also enables beamforming, which directs the beam from the cell site directly to where the customer is, dramatically cutting down on interference.  Reduced interference results in higher and more consistent speeds for customers.
"While continuing to drive 5G development, the deployment of Massive MIMO offers very tangible benefits for our customers today.  As we innovate, we learn and continue to lay the groundwork and set the standards for 5G technology," said Nicola Palmer, Verizon Wireless chief network officer, in a prepared statement. "Our collaboration with Ericsson on this new deployment continues to drive industry-wide innovation and advancements."
Niklas Heuveldop, Ericsson head of market area North America said: "Massive MIMO is a key technology enabler for 5G, but already today, 4G LTE service providers and end users can benefit from the superior capacity and network performance this technology enables.  The current trial is an important step in the collaboration we have with Verizon to prepare their network for 5G."
Ericsson is active with massive MIMO deployments on other carrier networks, including Sprint, who announced a deployment last month.