NTIA Administrator Alan Davidson offered much more clarity about the $42.5 billion BEAD program during a keynote address at the Mountain Connect conference taking place this week in Colorado. Davidson has ambitious goals for the BEAD program, which is a part of the broader $65 billion broadband infrastructure funding program.
Davidson is hopeful that BEAD will address and resolve the digital divide once and for all.
"Our mission here is to make sure everybody in America is connected," said Davidson during a press conference. "That is the mission that we've been given by the President, by the Secretary of Commerce, by Congress, to make sure that everyone in America has access to high-speed affordable internet service."
He admitted though, achieving that goal will be complicated.
"It sounds great you know, you got $48 billion, just connect everybody in America and bridge the digital divide," he said. "As we've been talking about it, it's complicated, the law that was written was complicated, there are a lot of tradeoffs in different things we're trying to achieve, we want to go fast but we want to be good stewards of the taxpayer money."
Fiber Priority
The issue of technology neutrality for government funding is a hot button issue and the BEAD NOFO ignited that debate even further. The NOFO specifically calls out fiber technology as the priority, but Davidson did qualify that a bit.
He specifically said he expects LEO satellite technology will have a role. When asked by moderator Drew Clark about the NOFO ruling out satellite broadband, Davidson hedged. "On this [LEO] issue, I think that may be an overstatement. I don't think that there will be no money going to satellite," he said.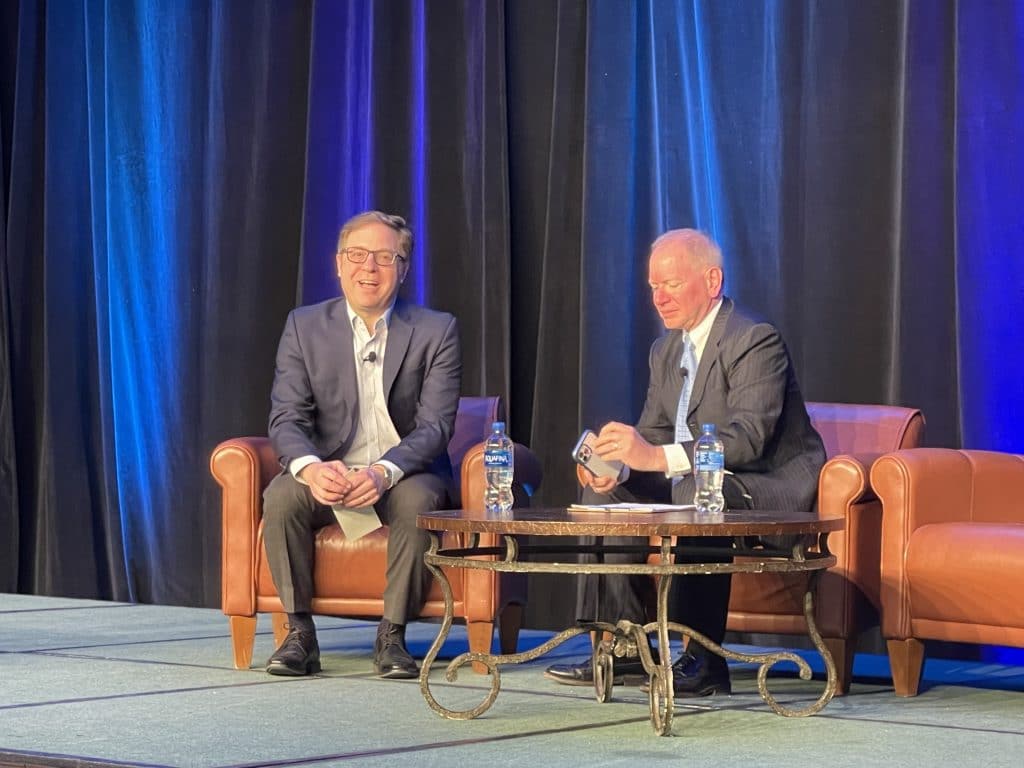 Davidson added more color to this issue in the later press conference.
"We do expect there will be some states very focused on fiber deployments. We expect there will be other states where other technologies, including satellite, will be an important part of the mix," he said.
It's a difficult balancing act that Davidson and NTIA are trying to achieve. It goes back to the "it's complicated" acknowledgment. Just moments later Davidson also gave a nod to a key fiber priority argument.
"We do not want to be coming back 5 years from now, ten years from now and saying we need more money, we need to upgrade these networks," he said.
Overbuilding with BEAD Money
Another complex issue is navigating the multitude of funding programs that already exist, including RDOF, and ensuring government funding programs are not overlapping each other and enabling overbuilding.
Davidson specifically cited how he sees the BEAD and RDOF programs coexisting. In some ways, it's a matter of timing. The $9 billion RDOF program, administered by the FCC, is well underway but is taking considerable time to authorize all the funds. Many of the top 10 RDOF winners are still awaiting funding authorization, two years after the program was first initiated.
Davidson suggested that if an area has yet to receive RDOF funding authorization, that area should be eligible for BEAD grants, and it would then be up to the FCC to "deconflict" any potential overlap.
"There are awards that the FCC has still not finalized, and for those awards we do think other grant makers in the federal government ought to be able to make grants in those spaces," he said. "Then it should be up to the FCC to decide to deconflict."
This is yet another example of the "it's complicated" theme and could actually get very interesting. In acknowledging the complexity of the process, Davidson noted there will be even more clarity coming.
"The NOFOs aren't the final word," he said. "We fully anticipate there will be more technical assistance and more written guidance coming out from NTIA on issues that we may have not fully addressed."