The number of devices consumers use to connect to the Internet from within the home is on the rise, with smartphone and tablet adoption contributing to a new benchmark of 500 million total connected devices, according to NPD Research. That equates to about 5.7 devices, on average, for every Internet connected U.S. household, up from 5.3 devices just 3 months ago.
Although the quick ascension in connected devices per household can be attributed to the rise in smartphone and tablet adoption, it's important to recognize that PCs are still the dominant form of connected device in Internet homes. According to NPD, "… the installed base of tablets increased by nearly 18 million and there are nearly 9 million more smartphones users," in the past three months. PCs are in about 93% of Internet connected homes, while tablets and smartphones are in 53% and 57%, respectively.
"Even with this extraordinary growth in the smartphone and tablet market, PCs are still the most prevalent connected device in U.S. Internet households, and this is a fact that won't be changing any time soon," said John Buffone, director, devices, NPD Connected Intelligence. "However, when you look at the combined number of smartphones and tablets consumers own, for the first time ever it exceeded the installed base of computers."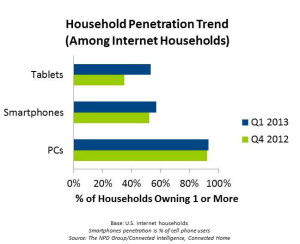 While PCs are the dominant method for connecting, all the growth is coming from tablets and smartphones, tablets in particular. For service providers looking to increase broadband penetration to the remaining population who don't have a PC, nor see the need for broadband, tablets may be an appealing answer. Getting tablets into the hands of the "we don't need broadband" crowd might just change their thinking.
"It's hard to believe that tablets and smartphones are still somewhat in their infancy," said Buffone. "But as we have seen in just the past few months, there is significant potential for this market to develop further."