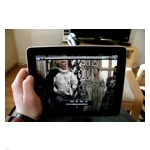 Internet sourced video streaming continues to grow in the U.S. as Americans streamed more than 15 billion videos in May, 2% above last month's all-time high of 14.7 billion. The number of unique online viewers is also up, increasing some 3% in May from April, to 145 million, according to the latest Nielsen figures.
So who's serving up the online videos on the Web? Google's YouTube continues to dominate the Nielsen charts, streaming 8.86 billion of the total 15.02 billion, up 1.3%, and bringing in 111.78 million unique viewers in May, a 0.5% increase.
Microsoft's search/email/social media combo MSN/WindowsLive/Bing was the big gainer in May. Total streams on the Microsoft Web properties came in at 266.71 million, up 26.9%, good enough for a fourth place ranking, while unique viewers grew 29.3% to 17.9 million, a fifth place ranking.
Hulu attracted 14.62 unique viewers, good enough for a 6th place ranking, but ranked second in total streams with more than 852 million, a 12.1% increase. Ranking third in total streams, VEVO streamed 414.6 million videos online in May, a 0.3% increase, while attracting 36.36 million unique viewers, a 4% increase, good enough for a second place ranking behind YouTube.
Third-ranked Facebook's unique viewer count declined in May from April, down 4.3% to 29.22 million, as did fourth place Yahoo!'s, down 3.6% to 26.2 million. Their total streams also fell, fifth-ranked Yahoo!'s 5.9% to 193.34 million and ninth-ranked Facebook's 8.3% to 135.17 million.
In terms of "stickiness," i.e. time spent watching on a particular OTT video site, Hulu topped the table with viewers spending an average 4 hours 43 minutes streaming video from the site in May, though that's a decline of 8.8% month-to-month. With huge gains of 61.4% and 55.3%, Ustream.tv and Justin.tv followed in second and third, respectively, in terms of time-per-viewer. Ustream.tv viewers spent an average 3:40 on the site in May, while Justin.tv viewers spent an average 2:35. Both sites streamed replays of the UK Royal Wedding, which was the main factor for their surge, Nielsen says.
Image courtesy of flickr user Ben Dodson.